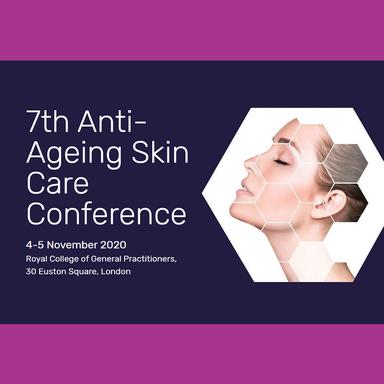 The 7th Anti-Ageing Skin Care Conference, organised by Summit Events, was to be held in London on 2-3 June 2020. In the context of the Covid-19 coronavirus crisis, it has been postponed to 4 and 5 November 2020. With the theme of this 7th edition: Outside In and Inside Out- an Holistic Approach to Anti-Ageing, this event will attempt to draw on related areas of anti-ageing and apply these to skin care approaches and treatments.
Skin care regimes and topical treatments are the cornerstone of maintaining good skin condition and protection from the environment; however, we can take lessons from other aspects of skin ageing such as the importance of genetics and overall lifestyle.
The skin microbiome is currently a major area of controversy and development in this sector. The conference will explore the skin microbiome and skin health, and its possible impact on skin ageing. It will ask how much do we know about the skin microbiome and its importance in young and ageing skin. What claims can be made for enhancing or protecting the skin microbiome?
The conference will also discuss important skin care actives, new formulation and biometric technologies, and methodologies in anti-ageing skin care.
During the two-day conference we will hear from invited world-renowned experts on skin ageing and skin care. In addition to the 20 presentations there will be an expert open forum and opportunities for discussion throughout the event.
Programme for Tuesday 2 June
Session 1: Internal and external influences in skin ageing
> Chair: Katerina Steventon, NBIC, UK
Innovating for An Ageing Society - the vision of the UK National innovation Centre for Ageing
> Prof Patrick Bonnett, National Innovation Centre for Ageing, Newcastle, UK
> Prof Mark BirchMachin, Newcastle University, UK
Holistic approach to target skin ageing (well aging, emotion, perception of global aging)
> Aina Queiroz, Seqens Cosmetics, France
Wellness and wisdom: Market and consumer trends in skin ageing
> Deanna Utroske, CosmeticsDesign, US
Session 2: Technologies and new concepts for improving and protecting ageing skin
> Chair: Prof Paul Matts, Procter & Gamble, UK
The relationships between nutritional status, antioxidants, bioenergy and interventions on human skin ageing
> Prof Mark BirchMachin, Newcastle University, UK
Cell senescence - on the precipice of new anti-ageing technologies?
> Dr David Gunn, Unilever R&D, UK
Targeting inflammasome mechanisms as a possible role of the microbiota in skin ageing
> Dr Marisa Meloni, VitroScreen, Italy
Microbiome in skin ageing: the role of probiotics
> Prof Andrew McBain, University of Manchester, UK
Programme for Wednesday 3 June
Session 3: Consumer expectation, benefits and claims
> Chair: Prof Mark Birch-Machin, Newcastle University, UK
Self-regulation of advertising anti-ageing skin care claims in the USA
> Annie M. Ugurlayan, National Advertising Division (NAD)®, New York, USA
Borderline claims and claim substantiation from the view of an official cosmetic control laboratory
> Evamaria Kratz, Chemical and Veterinary Surveillance Institution, Germany
Microbiome and anti-ageing claims and support
> Chris Gummer, Cider Solutions & Consultant to Clearcast, UK
Session 4: Measuring anti-ageing skin care benefits and supporting claims
> Chair: Dr Jack Ferguson, Skinnovation Ltd, UK
Digital beauty – A review of where we are now and a look to what the future will bring
> Daniel Whitby, Lake Personal Care, UK
Clinical Signs of Photoageing correlate with the Water Content in the Dermis
> Stephan Bielfeldt, proDERM GmbH, Germany
Sebum: Lipid Profiles in skin ageing and ethnicities
> Dr. Apostolos Pappas, Rutgers University, USA
Cutibacterium acnes the main component of the facial microbiome and its role in skin ageing
> Berhard Paetzold, S-Biomedic, Belgium
The 7th Anti-Ageing Skin Care conference will be held at Royal College of General Practitioners, 30 Euston Square, London.
FP
© 2020 CosmeticOBS