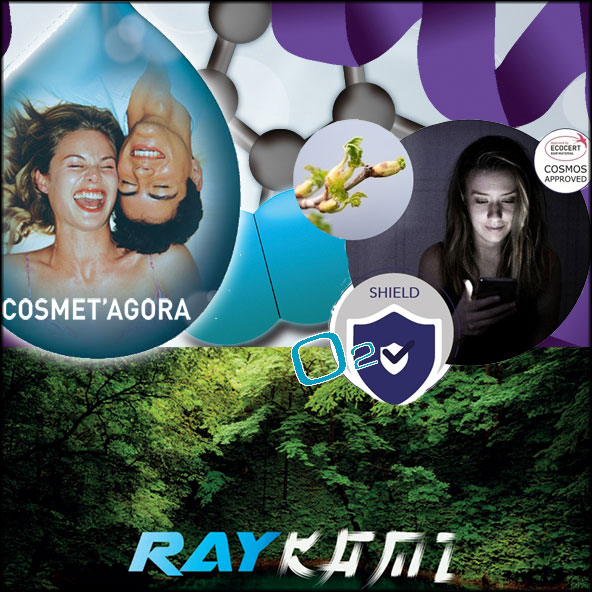 Among the main trends identified at Cosmétagora, held in Paris on 15 and 16 January 2019: the fight against the effects of blue light on the skin. Many exhibitors offered cosmetic raw materials designed for this purpose, all with protection claims and anti-ageing effects. Presentation of some of them.
Reading time : ~ 6 minutes
In line with the anti-pollution active ingredients that target fine particles with antioxidant effects and protective shields, blue light is now at the forefront.
This part of the light spectrum, whose wavelengths range from 380 to 500 nanometers, is emitted by the sun, but also and perhaps most importantly, by artificial light sources: our LED bulbs and all our screens (tablets, TVs, computers and indispensable smartphones).
This blue light would be dangerous for our eyes and skin. It is therefore the subject of all the attention of the cosmetics industry, and particularly of many ingredient suppliers who were present at the Cosmétagora show to present their new anti-blue light actives.
Oxygeskin® – SILAB
Oxygeskin® is a natural active ingredient which revives complexion radiance by reinvigorating the skin oxygenation in conditions of chronological aging or digital pollution. The skin's quality is thus improved and the healthy-glow effect restored.
It was developed in 2010 to overcome the lack of oxygen in the skin occurring during the aging process. SILAB brings today new efficacy data highlighting the capacity of Oxygeskin® to fight the damages induced by blue light at the skin level.
Rich in arabinogalactans from the garden nasturtium, coming from a French supply chain, Oxygeskin® is a patented ...