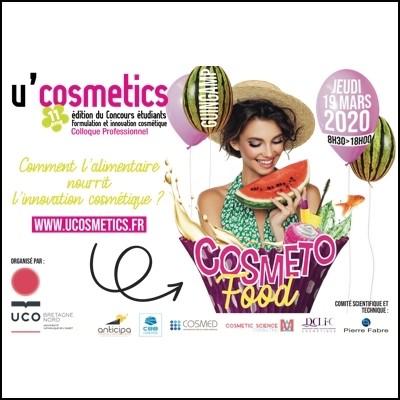 How does the food sector feed cosmetic innovation? It is to this question that U'Cosmetics participants will have to answer by presenting a cosmetic product related to this issue. For its eleventh edition, the student competition organised by UCO Bretagne Nord has chosen the theme of "cosmetofood". The event will take place in Guingamp on March 20, 2020.
Reading time : ~ 2 minutes
"Cosmetics has often been inspired by food in industrial techniques, in active ingredients and additives, in our senses and in our daily lives," explain the competition organizers. "The origin of this theme expresses the fact that the ingestion of certain foods makes you more beautiful. Here, it is more a question of exploiting the qualities of food (hydration, anti-oxidation) by using them in cosmetic products. It will therefore be necessary to recall the regulatory framework of Cosmétofood: it is not a question here of ingestion but of concepts derived from food, which can be transposed to cosmetics. Food is a broad universe and cosmetic innovation draws on it to create the trends and innovations of tomorrow."
On March 19, 2020, the 10 selected teams will present their projects to the jury, professionals and students present. The teams that have proposed the most innovative projects will be awarded four prizes:
• The innovation formulation prize
• The innovative concept prize
• The special Philippe Collas prize
• The jury's favorite prize
As every year, a professional symposium will also be organized.
For the 2020 edition, six players in the cosmetics industry will address topics as varied as the regulatory limits of cosmetics and food, applications in raw ...