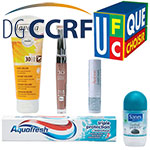 It is to verify the legal compliance with the mandatory labelling declaration for the nanomaterials contained in consumer goods that UFC-Que Choisir had 16 food and cosmetic products analyzed by a laboratory. Here is the result, according to the French consumer association: 8 products analyzed out of 10 do not mention the presence of nanoparticles. UFC decided to file a complaint, in particular against five cosmetic brands. Meanwhile, DGCCRF (French General Directorate for Competition Policy, Consumer Affairs, and Fraud Control) made the results of their market inspections available to the public. And they provide evidence of many cases of non-compliance with regulations.
Reading time : ~ 6 minutes
It is Cosmetics Regulation 1223/2009 that provides for this obligation: whenever a nanomaterial is contained in a formula, it should appear in the list of ingredients, with the name of the substance followed by the word [nano] in square brackets. This requirement came into force in July 2013. Everyone has heard of the debate on raw materials which are initially nanos, but can agglomerate in the formula, so that they are no longer in the nanoparticle form in the finished products… It is exactly the case of those that were analyzed by UFC-Que Choisir.
UFC-Que Choisir analyses
According to UFC, the laboratory analyses provide evidence of the presence of undeclared nanomaterials in five cosmetic products:
• Lavera 100% mineral sunscreen SPF30: 100% of nanoparticles in the titanium dioxide UV-filter
• Avène Cold Cream nourishing lip stick: 100% of nanoparticles in the titanium dioxide (CI 77891)
• Aquafresh Toothpaste triple protection + whiteness: 40% of nanoparticles in the titanium dioxide
• Bourjois Gloss Effet 3D-33 brun poetic: 100% of nanoparticles in the iron oxide (CI 77491)
• Sanex Nature Protect 48h deodorant: 31% of nanoparticles in the aluminium oxide (Potassium alum)
'Given the significant proportion of nanoparticles detected in the ingredients used in the products, and which was not specified,' and because they 'will not ...