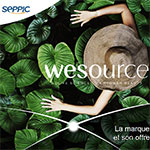 Seppic have just announced the creation of wesource, a dedicated brand to gather all its cosmetics actives from plant-based chemistry, marine biotechnologies and botanical extraction. With this brand, Seppic aims to give its customers a better understanding and consistency of its active ingredients portfolio.
Reading time : ~ 2 minutes
A subsidiary of the Air Liquide group in the Healthcare business, Seppic creates and markets a wide range of specialty ingredients for health and beauty. Wesource features a complete and innovative offer comprising 85 active ingredients for cosmetics.
Mariane Tavares, Seppic Marketing Director, says: 'With wesource, we are highlighting our scientific expertise and our sustainable innovation, in order to offer our clients proven efficacy active ingredients, inspiring stories, and unique solutions that meet the needs of consumers.'
The brand presentation was an opportunity to reiterate Seppic's scientific expertise and knowledge of cosmetics markets, and to mention the technologies the group developed in the three fields covered by wesource:
• Botanical extraction, actives obtained from cultivated or harvested botanicals through botanical extraction or purification (XYLISHINE™, a wood-bioinspired unique complex of sugars for damaged hair; SUBLIGANA™, a highly titrated extract from Harungana wood derived from the primary forest of Madagascar exhibiting antioxidant, soothing, and comedo-reducing properties for a perfect skin; ROSABORA™, a concentrate of polyphenols derived from Tambourissa tricophylla for an anti-redness effect…)
• Marine biotechnologies, in particular with CELEBRITY™, a patented technology which extracts actives from rare macro-algae cells
• Plant-based chemistry, like green chemistry, which gave rise to molecules like AMINOVECTOR TM (lipoaminoacids ...