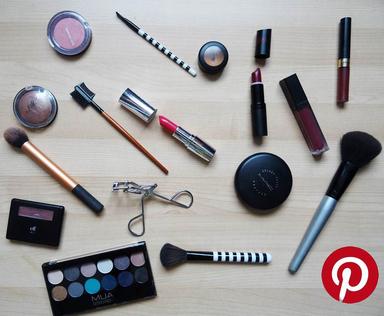 Whoever has never used Pinterest should report himself! This very popular social network is the main source of inspiration for many people. Cooking, sports, fashion, everything goes there, including cosmetics. The platform has just published its report on the beauty trends most sought after by users in 2018.
With eight billion beauty ideas and 207 million paintings on this theme, Pinterest is a significant source of inspiration.
What's new on the hair planet?
The Pinterest report states that braids are one of the most popular hairstyles in the United States, with 445% of researches.
In Germany, the shorter pixie cut, which is more underground, is popular with users (more than 266% registration for this theme).
In France and England, it is the coiffed/decoiffed buns that are in fashion (+167%) as well as the braided variant (up 272%).
Not only hairstyles are in demand on Pinterest.
Inspirations for hair dyes are also seeked.
In the top 3 of the most "clicked" colours:
• Red (+222% in Mexico)
• Ash grey (+68% in Japan)
• Pink (+46% in Australia)
Make-up trends
In terms of make-up, all types of daring are allowed, but the trends are different in each country.
The Pinterest report therefore establishes a predominance of wine lipstick in Brazil (+93%), a passion for glitter make-up in Argentina (+77%), a return to the cat's eye in South Africa (+131%) and a preference for orange blush in Japan (+250%).
In Europe, our Spanish cousins are swooning in front of their eyelashes in a "Russian volume" style.
Indeed, the percentage of registration of this trend is literally exploding, reaching 700%.
Finally, in France, artistic make-up is in fashion (+88%).
A perfect manicure
Gone is the traditional manicure, nails have become the field of all eccentricities and it is not the study of Pinterest that will tell us the opposite.
In South Africa, glitter nails are in vogue and 102% of the researches are aimed at them.
In Australia, it is the "marble nail" trend (+31%) while in the United States, the trend is to achieve a gradient colour (+88%).
No doubt, European women are much more classic when it comes to decorating their nails.
German and French women like to wear a "baby boomer" style manicure (revisited French manicure, +100%) and English women are beginning to make a strong comeback to red varnish (+90%).
Special mention for the Spanish women who show originality by painting each nail in different colours (+239%).
So here are the beauty trends that are making the buzz right now. All that remains is to get started if you want to be fashionable… or on the contrary avoid them so as not to do like everyone else, it's up to you.
JS
© 2018- 2020 CosmeticOBS