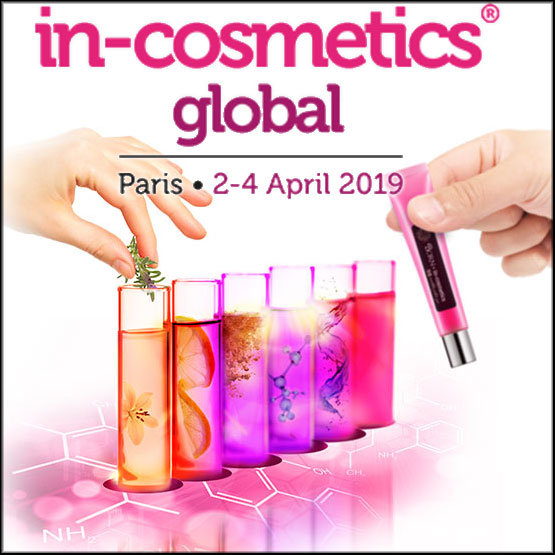 in-cosmetics Global, the must-attend event dedicated to ingredients and raw materials for cosmetic formulations, is back at Paris Expo Porte de Versailles, from April 2 to 4. Suppliers generally take advantage of this event to launch their latest active ingredients, and this 2019 edition will be an opportunity to discover their new products. Focus on some of them….
Reading time : ~ 5 minutes
Presentation of the latest cosmetic ingredients with some 800 exhibitors, highlights of the main trends of the moment, conference program… there is more than one reason to come to the in-cosmetics Global exhibition.
The offer of the show
The organizers even see at least eight:
• Innovation Zone – a showcase of the newest raw materials launched in the last six months
• Sensory Bar – a hands-on opportunity to sample innovative textures, tastes and smells, such as fragrances for haircare and tastes for lipsticks
• Make-Up Bar – designed for visitors to see and test new exciting make-up formulations, featuring products such as eyeshadows, foundations and nail varnishes
• Boost Your Test – an interactive area dedicated to cosmetic testing, organised by Skinobs
• Sustainability Corner – a unique way to learn about how brands and suppliers are supporting the achievement of the UN Sustainable Development Goals
• Formulation Challenge – a box of mystery personal care ingredients is given to expert teams, who then have 90 minutes to produce an innovative formulation
• Country Pavilions – an easy way for visitors to locate ingredients from specific countries in the region
• R&D tours – led by a professional and knowledgeable guide, R&D ...