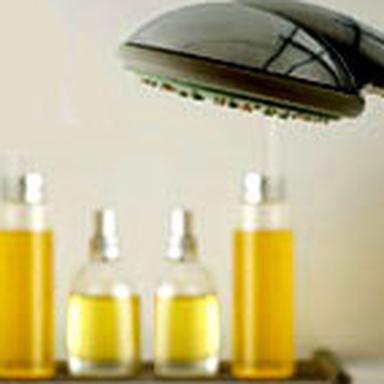 Is the traditional body scrubbing performed in the shower, followed by the dry application of a moisturising lotion coming to its end? Revived, the body exfoliant is applied on a dry skin, and is not rinsed off. Further, the first body milk to form and rinse in the shower is launched. New care rituals, revival of already seen galenic forms, or just new marketing derivatives? A focus on two new movements to learn for 2013.
Body scrub without water


One knows the face scrubs that are removed, when dry, by fingertips while pilling. Contrary to the micro-balls-based exfoliants that shall be rinsed off, there is no need for water to be taken off. In fact, not necessarily, even if it is more comfortable to improve their removal by using a cotton pad, moisturised with a lotion.
Body scrubs are generally applied to a wet skin in the shower (or on oiled skin, in spas) and are rinsed off, even if they have, more and more, a melting, creamy and moisturising texture. They are then formulated from a moisturising fat (vegetable oils) and an exfoliant active ingredient (sugar crystals, carob extracts, rice or apricot or almonds kernels powder … ).
At home, or thanks to new care protocol in spas, body scrub is now also performed on the dry body. No longer, any need for a shower to refine one's skin texture and remove dead cells. No water required to get rid of the scrub and to improve the skin softness to the touch.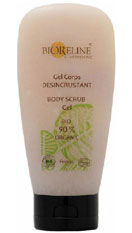 At home
Since the end of 2010, Bioreline (Laboratoires Néobie) offers an exfoliating Gel Corps (Body Gel). Based on jojoba balls, it is applied on a dry skin and is removed by massage. Not supposed to be rinsed. Up to now, it is one of the only products available to the public at large (organic food stores, spas and on the Internet.)
This kind of care is suitable to all skins, especially to dry and/or sensitive skins that do not tolerate water; furthermore, to skins with diseases which are emphasized by contact with water (very rare hives and pruritus triggered by water). Useful also during specific trip conditions (camping, high-mountain tours, camel trekking … ).
A further advantage: when the carbon labelling of cosmetic products is talked about, such a product is in full line with the eco-design of exfoliants, as it has a smaller environmental impact, thanks to its lack of use of water (and its heating) when applied.
Its drawback? At home, how to proceed when time has come for the product removal? I.e. when the exfoliant particles come off?
For the face, one often chooses the sink, sometimes at the risk of clogging the pipes. However, for the entire body, is the shower or the bath-tub not the best place … without being tempted, once there, to turn on the tap and, in the end, to rinse the product off?
In spas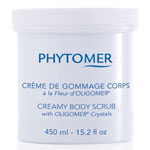 While leave-on scrub comes with the trouble to find the best place to do it, at home, it provides spas with an easier way of doing for shower-free spas. It is surely not coincidental that the few brands that positioned themselves on this segment are spa's brands. This is an opportunity for them to enlarge their offer for care and to optimize the occupancy rates of all their cabins, while giving their users more comfort (no need to walk to the shower, no temperature change, no rinsing and drying time.)
While Académie de Beauté has stopped its Tonic – Friction Gommante Sèche Corps programme (its Acadayspa programme being replaced by a new line, Body, without any dry exfoliant), in spas, Sothys, from February 2012, has been offering two dry, leave-on scrubs. They are in the Minceur care (Slimming care) and in the Evénement Corps (Body Event) protocol, along with a leave-on scrub based on Lemon and Patchouli, for the 2013 Limited Edition. Similarly, in March, Phytomer has launched its Oligomer-flower-based Crème de gommage corps (Body exfoliant Cream), its first dry exfoliant to be applied on a dry skin, and that melts without any rinsing. Available only in spas within a Holistic regenerating protocol.

Body lotion for use in the shower
For moisturisation in the shower, the suppliers of washing products already launched shower oils. Applied as a shower gel, the shower oil (which may be used, too, as a bath oil) mildly cleanses and provides the driest skins with Moisturisation. If rightly formulated, it allows for fighting the drying effects of fur, and comes as a cleansing and lipid replenishing 2-in-1 product. Some go even to claim to be 3-in-1 products, including the legs shaving.
As for most of the make-up oil removers, their texture, oily at the beginning, becomes creamy when in contact with water, sometimes lathering, which requires a mild massage to be applied on the entire body. There are also shower lotions (sometimes referred to as Douche lactée; Milky shower), or bath lotions, in fact, milky- or creamy-textured cleansing gels.
On wet skin, and rinsed off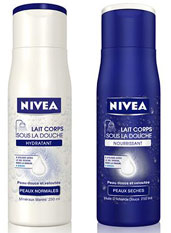 Launched end of 2012, and much advertised, the first Nivea "lait Corps pour la douche" (Body shower lotion) is not a 2-in-1 product. Offered in two versions, "Moitusing for normal skins" and 'Nourishing for Dry skins," it is positioned on the segment of the body care that saves time. It is applied on a wet skin after the gel has been rinsed off, and is rinsed afterwards. The practical point is that it is possible to put clothes on immediately after the shower (no sticky feeling). As with shower oil, the two steps (cleansing and hydration) are performed in the shower tub. Although that, with this lotion, they require two applications, two different products. Therefore, is there a real time saving, as the time needed to absorb a classical dry lotion is replaced by the rinsing time, though the latter is shorter? Is it really a novelty, as any body lotion can be used this way, though its regenerating effect could be slightly milder, due to its lighter texture?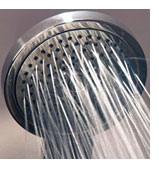 More oil and less water than in a classical lotion
Even though this process has been widely accepted by Italian women (the product has been launched in Italy in January 2012), though it claims the hydrating effect last for 24 hours, we wonder, when reading its list of ingredients, about the real innovation in terms of formulation. Carole André, a cosmetics formulator, an expert for CosmeticOBS-L'Observatoire des Cosmétiques, analyses the composition of the nourishing version as "a very classic lotion, high in oils and mineral waxes, which could make it a bit waterproof."
A damper put on thingsfor the innovative INCI list, which barely masks a new marketing positioning (always persistent!) in terms of body care. However, it is a concept that has the merit to remove obstacles to hydration by providing a first ever habit. When knowing that, in France, only 32% of the women use a moisturising body lotion*, any incentive to a better care of one skin is good enough … if the formula is as benevolent as the movement.
*Source: Kantar 2011, supplied by Nivea.
© CosmeticOBS-L'Observatoire des Cosmétiques
© 2013- 2020 CosmeticOBS