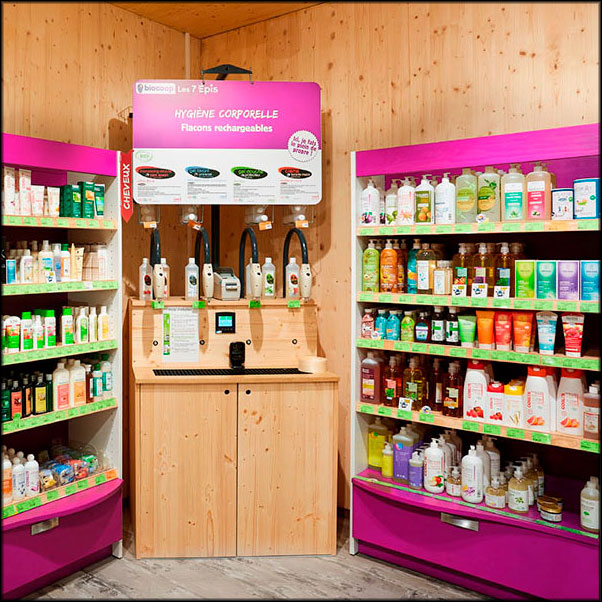 In recent years, dry food distributors have flourished in supermarkets. Slowly but surely, cosmetics is getting down to it, in a concern to fight waste and respect the environment. Réseau Vrac, a professional organization dedicated to promoting bulk sales in France, gave some advice to beauty manufacturers interested in this new distribution system.
Reading time : ~ 7 minutes
Recently, the bulk market has grown exponentially.
The Bulk Network association, created in 2016, has grown from 0 members to 800 in the space of three years.
Driven by increasingly responsible consumers, many manufacturers are turning to bulk sales.
What is it exactly?
This involves offering consumer products (food, cosmetics and detergents) without pre-packaging, packaged in sales equipment. They are then sold to the consumer in individual and reusable containers.
The idea is to manage to do without disposable packaging in order to avoid wasting resources.
"Single-use plastic is really in our sights," explains Réseau Vrac. "So we have to find a way to renew ourselves and bulk selling is a serious avenue for improvement."
The bulk boom
It all started with the sale of sweet groceries (in cinemas, for example).
The salty followed, and little by little, cosmetics became part of the dance.
Today, there are no less than 200 100% bulk stores in France. 80% of organic retailers offer this type of sale, compared to 20% in traditional distribution. But this is only temporary, bulk purchasing is the main development axis of supermarkets, especially in the non-food sector.
The regulatory context
Selling without pre-packaging may be in the spirit of the times, but it is important to ...