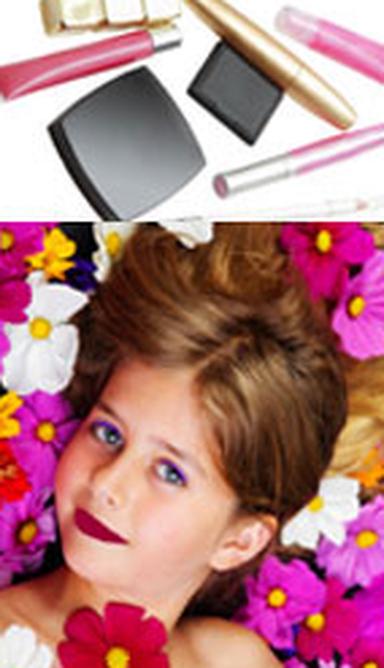 Our children are washed. They brush their teeth, protect their skins from sunrays … They daily use cosmetics, as adults do. That is why they interest the marketing departments of renowned brands, which design full ranges of products (after those for babies and teens) with suitable formulae, fragrances and packaging.
At the same time, shall we celebrate the fact that eyes make-up or lipsticks are designed for primary school pupils? Shall we make our pre-teens precocious consumers of make-up and anti-wrinkles products? With induced risks of sensitization of their skin to cutaneous allergies, of addiction to their mirrors and eroticization of their bodies? This trend, which comes from the USA, is controversial.

Last January, in New Yor City, the Pacific World Group has launched a make-up and skin-care line for the 8-12. Called GeoGirls and sold in Wal-Mart, the number one retailer network in the world, this line comprises 69 references from mascara to gloss and blush, and even an exfoliant and a mask …
More recently, the French media and the blogosphere have reported on Mini kids Spas in Paris. This is an American program of care given little girls from six in suitable beauty parlours, with scalp massage, manicure, nail polish … all this supplemented with sweet and drinks for children tasting.
It is no surprise that teens be concerned with skin cleansing or beauty advice. Or that anti- acne or anti-oily skins products for young people are specifically designed for them. Nevertheless, trivializing nail polish for girls hardly leaving infant school is a bit more tendentious. At such a low age, make-up shall be considered as a stylized face-painting and reserved to birthday parties and other parties, and should not be used daily. Further, ingredients of their formulae may have detrimental effects to the health of adults hence, even more detrimental to children ( endocrine disruptors , carcinogen ingredients, potentially irritating or allergenic substances …).
Market of the future?
However, it is a lucrative market, as it promises the young consumers will be beautiful. Wal-Mart puts at 2 billion dollars the segment of cosmetics for this age bracket. This source of income attracts other manufacturers and retailers. Madonna's daughter, Lourdes Leon, 14, who caused a sensation in August 2011 when launching her Materials Girls Beauty cosmetics line, designed with the help of her mother and sold in Macy's, is likely to be followed by others.
In France, cosmetics ranges designed for children and pre-teens grow in number. After toothpastes and sunscreens, they deal now with body care products (shower gels and shampoos), but also with protective lotions and hair-care. Among the first brands to go in the 3-12 bracket, there are Dop and Cadum , with its line "I'm no longer a Cadum Baby". There are now numerous kids and juniors lines in Revlon , Tahiti, Klorane , L'Oréal , So'Bio étic , Logona , Planet Kid , Avon , Le Petit Marseillais , Timotei , Schwarzkopf, Lovea, TooFruit…
Before using their first make-up line, our young consumers are not left aside … it would be better if they could do without.
© 2011- 2020 CosmeticOBS