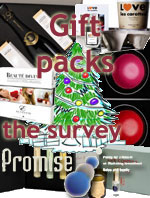 Gift-packs are a successful option every year during the Holiday season. Especially, those coming with a "Well-Being" flavour. By the way, why this gift-pack is thriving, while that one is not? Some pieces of an answer through a Promise Inc's survey.
Reading time : ~ 5 minutes
This study is released by Panel On The Web, a subsidiary of Promise Inc., a market advice and research provider, specialized in consumer behaviour analysis.
It has been performed on a representative 500-strong sample group, male and female, 15 and more, between 24 October and 1 November 2011, based on a choice of gift-packs from the beauty world.
The selection

The following packs have been chosen to get the sample's opinion (they are classified as per ascending order of price):
• Pack Les contes de fée parfumés (Perfumed fairy tails), by Cire Trudon (a book for children + a scented candle + a home fragrance spray can): 45 €
• Pack 3 parfums personnalisé (3 perfumes customized pack), by Parfums 137, (three Eaux de Parfum 15mM/0.53 fl.oz. + one jacket to customize the pack): 50 €
• Pack Beauté Divine (Divine Beauty), by Euphorie (one box with 150 care and "beauty ceremony" (hair-dressing, manicure, make-up …) to be chosen in beauty parlours and spas): 69 €
• Perfume Love les carottes (Love carrots), by Honoré des Prés (eau de parfum 50 mL/1.76 fl.oz. in its American coffee-cup): 76 €
• Pack Prestige, by Elaÿs (two care-creams + ½ bottle of champagne): 109 €
• Pack Bento Box, by Nars (two lipsticks in small jars + brush and its wisteria-covered handle): 115 €
The survey
The ...