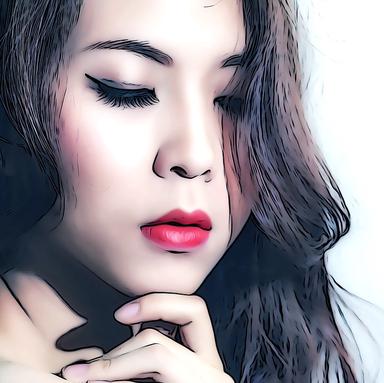 For 30 years, Florence Bernardin, founder of the trend firm Informations Inspirations, has been interested in the Asian market and more particularly in the way beauty is enjoyed. As a genuine specialist in the subject, she analysed consumer habits and cosmetic trends at an event organised by the CEW on 24 September in Paris.
Understanding the Asian market is not always easy. Florence Bernardin and her team have been going there for years, visiting stores, interviewing consumers and buying products in order to get the most up-to-date view of Asian beauty.
Consumers in different countries are not the same and do not view cosmetics in the same way.
During her presentation, Florence Bernardin chose to focus on Japan, Korea, China and Indonesia/Malaysia.
It is a mature country. More than 50% of women are over 50 years old, "the sector is mostly drifted by aging care," the expert analyses. "But it's a market that tends to become more and more disruptive."
For the Japanese, beauty also comes from within. "Women are becoming more and more like Western women in the way they are dressed. They are no longer in total Chanel look as they were thirty years ago and they advocate a certain return to minimalism. We can see this with the growing success of Marie Kondo or the lifestyle brand Muji."
Importantly, Japanese beauty rhymes with science.
Indeed, Japanese research is progressing molecule by molecule, produced by product. "But every time, their discoveries shake up the world of science and beauty."
The effectiveness of products in the service of consumers is essential.
Moreover, this is reflected both in the quality of the products and in the way they are sold.
In Japan, each brand recruits and trains its own female salespeople.
They have to pass exams every year in order to be increased and they really reflect the cosmetic company that customers come to see when they need information.
Serious as they are, Japanese consumers come from the country that invented the "kawaii". (Japanese word meaning "cute", editor's note).
Even at the age of 50, they appreciate that some of their products are designated with a hint of infantilism.
Finally, it is a country that promotes "Made in Japan".
This is a relatively recent phenomenon according to Florence Bernardin. "If we look at Shiseido products, for example, many have French sounding names. But today, it is the cosmetics of their own country that the Japanese want because a real tourist windfall has developed. Japan is boosting its economy. We see it with the Rugby World Cup, the Olympic Games in 2020. Tourists also come to discover Japanese expertise."
It is a young market, born with the Internet and Instagram. In the collective imagination, a Korean woman looks like a trendy girl in trendy clothes, unlike Japan, which reflects a more historical and millenary image.
Korea invented the "Glow", this principle of brilliance and radiance on the face.
"We are really into this idea of light that will illuminate the face. It is also the country of the show. A young woman, at 20 or 25 years of age, must be at the height of her beauty. It must be beautiful for the outside. To achieve this, she uses make-up and care, but also cosmetic surgery, often offered by parents. Korean women are also adept at layering and can stack up to ten products on their faces. Moreover, we often hear Helena Rubinstein's sentence there:"There are no ugly women, there are only lazy women."
It advocates the cult of "ideal beauty". Korean women are a reference in both India and Southeast Asia.
The most beautiful are the airline hostesses at Corean Airlines, and often these young women end up breaking into the world of cinema.
It is a market that is driven by innovation to attract this young consumer.
This is not hard given that the majority of subcontracting takes place in Korea. All the major brands come to do their briefs, so the Koreans have all the material to be the most advanced. "Their innovations are not based on scientific discovery as in Japan, but rather on concepts or packaging. Everything is done to make people want to consume. We also talk about naturality, but retwisted and which tends more towards greenwashing than anything else," says Florence Bernardin.
In terms of retail, Korea is the queen. People don't receive each other at home, they see each other in the stores.
It is therefore common to find brands that, in addition to selling their products, offer catering and lifestyle services.
To sum up, this country, whose population density is not so high (51 million, editor's note), is a must in terms of beauty and innovation. It attracts tourists from all over the world, from Southeast Asia to Russia and Australia.
It is also a very young market. The average consumer is 22/23 years old, she is entering working life.
She has the means and therefore she wants results. Since she gives herself body and soul to her job, she doesn't have time to take care of herself.
From this observation was born the concept of "Lifestyle Beauty" or how to optimize your time when you sleep or when you are in the shower.
Cosmetics must adapt to the rhythm of the Chinese woman and not the other way around.
Paradoxically, in China, we consider that we age from 17 years old, so the market is driven by 3early aging care".
Of course, we are not talking about wrinkles but about pore dilation, skin spots or hair loss.
"This is the country of social networks and the Internet. Consumers follow influencers, share their opinions on products," explains Florence Bernardin. "A lot is happening online, the Chinese market is saturated by the click war. In fact, the whole country is preparing for November 11,'Singles Day', when online sales are absolutely spectacular."
Finally, as in Japan, there is an increase in local pride.
Many products are stamped "Made in China", more and more qualitative and able to compete with the competition.
Once again, a very young market that has increasing access to consumption and is under the influence of social networks.
With 80% of the population of these countries being Muslim, women's beauty is concentrated on the face and hands.
To seduce these young women, make-up must be easily washable because they must remove make-up and do their ablutions before each call to prayer. But it must also be resistant to wet weather and high temperatures.
"We hear a lot about menstruation these days. If there is one place where women are happy to have their periods, it is in Muslim countries. They cannot pray and can therefore keep their make-up," explains the expert.
Consumers are also "selfie addicts".
They like to share pictures of themselves and claim their religion.
It is part of their way of life and they are proud of it.
"Be careful, soon to be allowed on the Indonesian market, all cosmetics will have to be labelled hallal," says Florence Bernardin.
These markets, all equally different from each other, represent good development prospects for French brands.
But before leaving for the assault, it is imperative to understand them well in order to best meet the expectations of these demanding consumers.
JS
© 2019- 2020 CosmeticOBS
---
Associated elements(1)