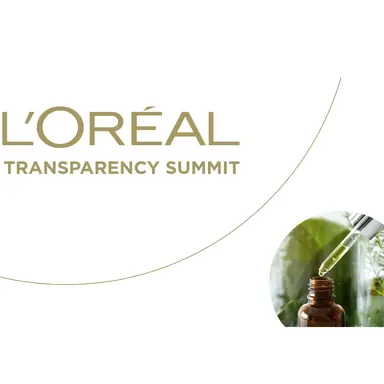 At a time when the Covid-19 has shaken the consumption habits of many people, transparency has become a key notion. A real challenge for the beauty industry which has long been accused of being opaque. Many independent cosmetic brands have opened the door of their companies to reveal more to their customers. And now it's the turn of the heavyweights to play the game. At a digital press conference on March 4, L'Oréal reaffirmed its commitments to be part of the current trend.
According to L'Oréal, 46% of people say they want to improve their knowledge of current events and science.
Today, for consumers, transparency is synonymous with:
• Openness (at 59%)
• Clarity (53%)
• Sincerity (49%)
• Authenticity (26%)
• Integrity (23%)
The importance of transparency can be seen everywhere in the world. 83% of the French, 92% of the Chinese and 70% of Americans say they want to know more about the actions and commitments of manufacturers. And consumers trust the word of professionals, because they have the necessary legitimacy.
L'Oréal's actions in the medium term
Saying that we are a "transparent" company is good, proving it is better.
This is why L'Oréal has revealed its roadmap for the coming years. Let's remember that the group is committed to a "cleaner" formulation and tends to improve its ecological impact.
The firm has announced that by 2030:
• 95% of its catalog of ingredients will come from renewable plant resources
• 100% of its formulas will be biodegradable
• 100% of its activities will be integrated within the "planetary limits" (i.e. what the planet can support, according to environmental science)
To facilitate dialogue with consumers, L'Oréal has launched the Inside Our Products platform. Launching in March 2019, it answers questions from the public about raw materials and product composition. It covers nearly 1,000 listed ingredients and is now available across 45 countries in eight languages. "Based on scientific advances, this content is gradually being deployed on the websites of the group's major brands (L'Oréal Paris, Garnier, La Roche-Posay, Maybelline, Redken, Essie, Kérastase, Yves Saint Laurent…)," adds L'Oréal.
Speeches are also planned on social networks (Facebook, Instagram, TikTok) to engage in direct conversations with consumers and thus answer their questions.
But to go even further, the group has just put its new project online: De l'Autre Côté. This website aims at clarifying all the public's requests, whether it is about ingredients, products' efficiency, or tests performed to ensure the safety of cosmetics.
A section is also dedicated to animal testing and the reasons for L'Oréal's presence on the Chinese market. It's an opportunity for the group to explain its commitment to animal welfare… a key issue to win consumers' sympathy.
Just as eco-responsibility, transparency is now imperative for brands, small and large, institutional and independent. And you can't skimp on the means. With Covid, people want products that are safe for them and for the planet.
More than ever, trust = transparency.
JS
© 2021- 2022 CosmeticOBS