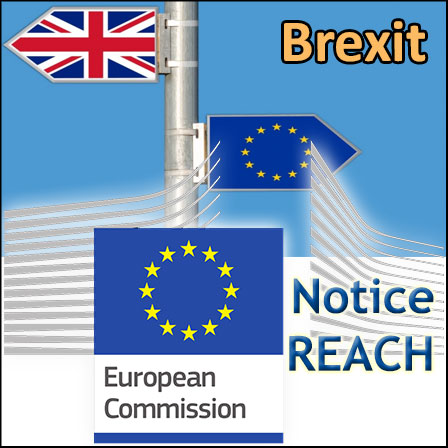 On 27 February 2019, the European Commission published a new notice to encourage economic operators to prepare for the United Kingdom's exit from the European Union. This one deals with the impacts of Brexit on the REACH Regulation, in particular on registration dossiers, substance use authorisation and downstream users.
Reading time : ~ 8 minutes
This notice first reminds that the United Kingdom submitted on 29 March 2017 the notification of its intention to withdraw from the Union pursuant to Article 50 of the Treaty on European Union. This means that, unless a ratified withdrawal agreement establishes another date, all Union primary and secondary law will cease to apply to the United Kingdom from 30 March 2019, 00:00h (CET) ('the withdrawal date'). The United Kingdom will then become a 'third country'.
In view of the uncertainties surrounding the ratification of the Withdrawal Agreement, all interested parties, and especially economic operators, are reminded of legal repercussions, which need to be considered when the United Kingdom becomes a third country.
Subject to the transition period provided for in the draft Withdrawal Agreement, as of the withdrawal date, Regulation (EC) No.1907/2006 of the European Parliament and of the Council of 18 December 2006 concerning the Registration, Evaluation, Authorisation and Restriction of Chemicals (REACH), establishing a European Chemicals Agency, will no longer apply to the United Kingdom. This has in particular the following consequences:
Registration
Registrations held by a registrant (manufacturer/producer, importer or Only Representative) established in the United Kingdom
According to Article 5 of Regulation (EC) No.1907/2006, as a general rule, substances on their own, in mixtures or in articles manufactured or placed on the ...