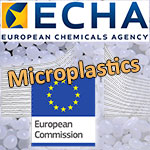 Following the requests from the European Commission, ECHA has started to prepare restriction proposals for oxo-plastics and for intentionally added microplastic particles to consumer or professional use products of any kind. This supports the Commission's plastics strategy, which was made public on 16 January 2018.
Reading time : ~ 4 minutes
ECHA Press release
Current evidence suggests a potential risk to the environment and human health from microplastic particles that are intentionally added to certain consumer or professional products such as cosmetics, detergents and paint. Oxo-plastics, also called oxo-degradable plastics, facilitate the rapid degradation of polymer materials into very small particles, and may potentially contribute to microplastic pollution.
Stakeholders will be invited to provide relevant information to ECHA during the preparation for these two restriction proposals. To this effect, calls for evidence will be launched in spring 2018 to assist with the risk and socio-economic assessment of intentionally added microplastics and oxo-degradable plastics.
Other types of material that may lead to generation of microplastics, such as the degradation of textiles and carpets, are not covered by the requests of the Commission.
What are oxo- and microplastics?
Oxo-plastics or oxo-degradable plastics are conventional plastics that contain additives which promote the oxidation of the material under certain conditions. They are used in applications such as agricultural films, rubbish and carrier bags, food packaging, and landfill covers. They can break down into very small particles, potentially contributing to environmental contamination by microplastics.
Microplastics are synthetic, water-insoluble polymer items smaller than 5 mm, which are considered to be of ...