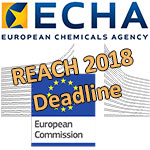 The Directors' Contact Group (DCG) – a platform of the European Commission, ECHA and industry associations – recommends that companies communicate their registration intentions clearly to the whole supply chain to avoid potential disruptions in supply after the 31 May 2018 REACH registration deadline.
Reading time : ~ 2 minutes
The DCG met on 27 November to discuss solutions for issues that have been raised in relation to the 31 May 2018 REACH registration deadline for low-volume chemicals. In particular, the directors identified a need to call upon suppliers to communicate their registration intentions to their customers to avoid crucial substances not being registered and supply chains being disrupted. Suppliers should let their customers know of their plans to register both individual substances and substances in mixtures. For the 10 to 100 tonne registrations, they should also identify the uses their registrations intend to cover and communicate them downstream.
To that end, the DCG issued a recommendation urging companies to step up their efforts to communicate their registration intentions. Industry associations represented in the DCG are committed to pass on this recommendation to their members.
The directors also agreed to publish a factsheet on access to EU finance. It gives helpful advice to companies that need to find resources to ensure safe handling of their substances and to those that choose to take action to substitute their chemicals with more sustainable alternatives.
For further information
• See the DCG Recommendation on notifying registration intentions
• See the SMEs – Access to EU finance Fact Sheet
© ...