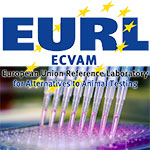 The JRC's European Union Reference Laboratory for alternatives to animal testing (EURL ECVAM) has published its recommendation on the use of non-animal approaches for skin sensitization (allergy) testing. This document builds on the progress made in the area since the publication of the EURL ECVAM strategy in 2013 and provides EURL ECVAM views on the latest two methods for skin sensitization, the LuSens and the U-SENS.
Reading time : ~ 3 minutes
As communicated in its strategy of 2013 EURL ECVAM has been committed to play a leading role in the definition of international standards for assessing chemicals for their potential to elicit skin allergic responses. Three recommendations were issued by EURL ECVAM on non-animal methods for skin sensitization testing, the DPRA, the KeratinoSens and the h-CLAT. A major achievement was the OECD adoption of these first three in vitro methods based on key chemical and biological mechanisms of the process that leads to development of skin allergies. Following independent peer review by the EURL ECVAM Scientific Advisory Committee (ESAC) EURL ECVAM now supports the use of two additional methods, the LuSens and the U-SENS when used in combination with other relevant information.
Since none of the regulatory adopted methods provides the same level of information as the traditional animal tests, a number of defined approaches, i.e. approaches based on the use of different type of non-animal data, have been proposed for the identification of chemicals that may cause skin allergy. On behalf of the European Commission, the JRC's EURL ECVAM led the development of international guidance on the harmonised reporting of these approaches.
The defined approaches for skin sensitization have comparable performance ...