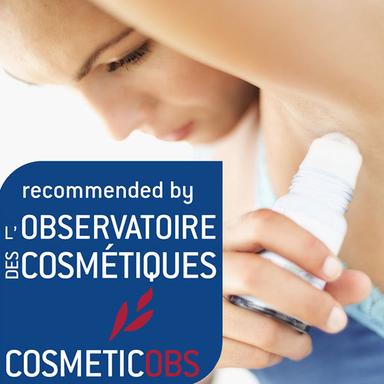 Daily and often essential, a good deodorant must be discreet but safe, not to fail during the day, and obviously, without danger to our health. For it, even more than for many other cosmetics, the selection criteria must be strict and selective. The experts at CosmeticOBS applied them without concessions to establish this selection of deodorants that they tested, evaluated and finally recommended!
Choosing a deodorant begins with a few exclusions.
Ingredients to avoid
Let's start with the "Free from…", that is, everything that an acceptable product must not be or contain.
No aluminum salts
Their case is unanimously supported (against them!) by the experts CosmeticOBS. By their mode of action as well as by the strong doubts about their potential toxicity to the body, aluminium salts are automatically excluded from the selected formulations. To fully understand this position, see the article"Deodorant or anti-perspirant?".
No alcohol
Of course, it is astringent and antiseptic, two properties that make it an active ingredient that is interesting in deodorant. But alcohol also has an irritant potential not to be overlooked (especially for application on depilated armpits and sensitive epidermis), in addition to being drying and not necessarily free of toxicity, especially when present in the product in dose important. We can do without it, the experts at CosmeticOBS prefer.
No (too many) allergens
Essential oils, often used, mainly for their antibacterial action and good odours, contain a lot of these allergenic aromatic molecules which can be sources of adverse reactions, and with the frequency and repetition of applications, promote sensitizations and ultimately allergies. In this respect, not or very little is always better.
More ball than spray can
Because aerosol bottles work with propellant gases, such as butane, isobutane, propane…, they also have a polluting potential for the environment. These VOCs (Volatile Organic Compounds) are indeed part of greenhouse gases and they are not good for the respiratory system when inhaled. No such risk, of course, is associated with the use of a roll-on…
So much for the "Free from…". But the selection criteria do not stop there, far from it!
The actives to be favoured
Because a deodorant must also be effective, and it must provide protection against odours and the disadvantages of sweating from morning to night. So what must it contain to properly fulfil its role?
Deodorant agents
They are of course and very logically the first to be useful in this type of product:
• Sodium Bicarbonate
• Triethyl Citrate
• Zinc Ricinoleate
• Geranium: Pelargonium Graveolens Flower Extract
• Lavender: Lavandula Angustifolia Flower Extract
• Lichen: Usnea Barbata Extract
• Mint: Mentha Piperita Extract
• Rosemary: Rosmarinus Officinalis Flower Extract
Astringent agents
By tightening the pores, they help to regulate perspiration, but unlike anti-perspirants (aluminium salts), they do not block it completely. Many are known to be safe and well tolerated by the epidermis. Here are some of them:
• Alchemilla : Alchemilla Vulgaris Extract
• Calcium Lactate
• Clove tree: Eugenia Caryophyllus Flower Extract
• Hamamelis : Hamamelis Virginiana Extract
• Mallow: Malva Sylvestris Extract
• White willow: Salix Alba Bark Extract
Antibacterial and/or antimicrobial active ingredients
They fight against the bacteria responsible for the bad smells of perspiration:
• Candida Bombicola/Glucose/Methyl Rapeseedate Ferment
• Capryloyl Glycine
• Green tea: Camellia Sinensis Leaf Extract (also astringent)
• Ivy: Hedera Helix Extract (also astringent)
• Leuconostoc/Radish Root Ferment Filtrate
• Sage: Salvia Officinalis Extract (also astringent)
• Sodium Caproyl/Lauroyl Lactylate
• Sodium Usnate
Quite recently, we have also seen on the market formulations based on probiotics designed to interact with the skin microbiota and its bacteria.
Soothing and softening agents
They improve the skin's tolerance of deodorants, and relieve possible irritations:
• Allantoin
• Aloe vera: Aloe Barbadensis Leaf Juice
• Alpha-bisabololol: Bisabololol
• Azulene
• Licorice: Glycyrrhiza Glabra Root Extract
• Mimosa: Mimosa Tenuiflora Leaf Extract
And with all this, if, in addition, our deodorant smells good and not too strong, it's happiness!
osmeticOBS selection
LW
© 2018- 2021 CosmeticOBS