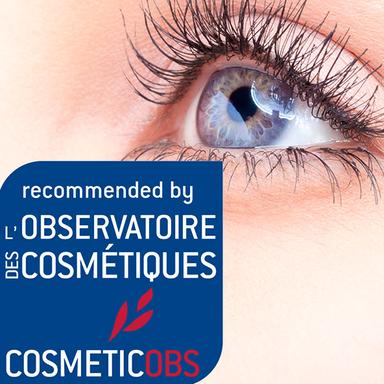 It is particularly when we are moving forward in life – and in time – that we start to need a good eye contour product. Indeed that is when the first signs of ageing come to appear (lines, crow's feet and rings are more marked…) as visible as the nose in the middle of the face. . But beware not to buy just any of them! You might be disappointed… Here is a selection, with products tested, evaluated and recommended by the experts at CosmeticOBS.
The eye contour area is particularly thin, fragile, sensitive, and can easily be flushed: it is also merciless when it comes to mark the first signs of fatigue with rings, wrinkles and other lines.
And obviously, it is quite visible, since it is situated on the face itself.
That is also why everyone wants to take action and do their best to erase the undeniable evidence of time passing by…
The good news is: the cosmetic industry offers nice, efficient resources which minimize the most obvious signs of ageing, and provide both freshness to the look and comfort around the eyes… provided the product has been well chosen though: some have experienced tough wakening resulting from too "powerful", or too allergenic actives, when they were not actually irritating.
What do our eyes need not to cry in front of their own reflection in the morning?
Ingredients to be favoured
• Soothing actives: eyebright (Euphrasia officinalis), cornflower (Centaurea cyanus), marigold (Calendula officinalis), mallow (Malva sylvestris), licorice (Glycyrrhiza glabra), vervain (Lippia citriodora, Verbena officinalis), hamamelis (Hamamelis virginiana), bisabolol…
• Decongestant agents: butcher's-broom (Ruscus aculeatus), horse chestnut (Aesculus hippocastanum), caffeine (Caffeine)…
• Ingredients which replenish the epidermis: mimosa (Mimosa tenuiflora extract), marshmallow (Althaea officinalis extract), and horsetail (Equisetum arvense), which is rich in silicon and restructures the connective tissue.
• Essential fatty acids which regenerate the skin, such as those that can be found in borage (Borago officinalis seed oil), evening primrose (Oenothera biennis seed oil), false flax (Camelina sativa seed oil) and argan (Argania spinosa kernel oil) oils, or in shea butter (Butyrospermum parkii butter)…
Ingredients to be avoided
• Inadequate preservative systems, whether they be composed of too many potentially irritant or allergenic substances, or endowed with too weak a spectrum of action (efficient preservation is essential, especially for a product to be applied so close to the eye area).
• Allergenic compounds, whatever their nature, are also part of the least welcome ingredients on the eye contour area, where the skin is inherently very sensitive and fragile.
• "Too" active ingredients that are likely to result in undesirable reactions: among them can be found retinol, fruit acids and, usually, actives known as extremely powerful anti-ageing agents. They are all to be taken with precaution…
CosmeticOBS selection
Given these criteria, here are the eye contour products selected by our experts at CosmeticOBS: all of them have been assessed, tested, and eventually recommended on the basis of their formula, efficacy, respect for the skin, harmlessness and quality-price ratio!
LW
© 2018- 2021 CosmeticOBS