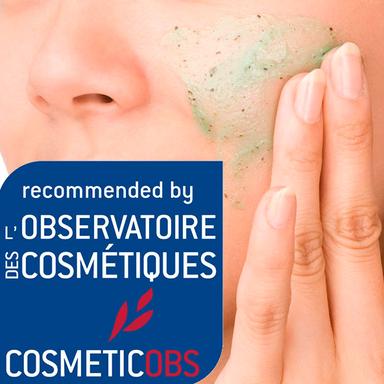 They are part of the ritual of deep facial care. They come ritually after cleansing and before the mask, and their action, refining the skin's texture and removing pores, is intended to boost the epidermis while preparing it to better benefit of the cosmetics that will be applied afterwards. So much for the theory, which is of course only valid if the scrub is performed with a quality product, neither too soft nor too aggressive, and preferably rich in a few active ingredients that add a touch of treatment in addition to exfoliation. This is the case with this selection, composed of formulas tested, evaluated and finally recommended by the experts at CosmeticOBS.
What can you expect from a facial scrub? Let's be honest: a simple exfoliation can't change the nature of the skin, but just, a little, and temporarily, its appearance. I can not erase all its imperfections like a magic wand either. Whether called a scrub, exfoliant or peeling, it is designed mainly to remove dead skin cells and cleanse it perfectly, so as to keep it in optimal condition. It thus gives the impression of a burst of radiance and a little more finesse. On the other hand, it is better to avoid damage. Even the oilyest skins do not appreciate very aggressive stripping. The golden rule is: a good scrub does not erase, does not dry out, and after rinsing, the skin does not tighten.
Mechanical or chemical
How will you take your scrub? Based on abrasive particles involving a slight friction of the product against the skin, or keratolytic compounds which, by simple application, act on keratin (protein that constitutes the cornea cell) and help to eliminate dead cells?
In the first category, natural or syntheticmechanical abrasives, silica or fruit kernel powders with microbeads that will be preferred from vegetable origin rather than plastic…
In the second category, mainly enzymes and acids, alpha-hydroxy acids (or AHA, fruit acids) such as glycolic acid, or beta-hydroxy acids such as salicylic acid….
Both families have their efficiency, and, of course, their shortcomings. All of them, in particular, can be more or less aggressive to the epidermis, the former because of their abrasive aspect, the latter because of their corrosive side. Hence the importance of selecting only formulas that are also well provided with good emollients, moisturizers and soothing agents, which at least help to limit the naturally stripping side of exfoliation. In any case, it is advisable not to exfoliate more than once a week: the skin and its inhabitants (the famous microbiome that we are constantly rediscovering and wanting to preserve today) also know, in the meantime, how to ensure a balance that guarantees good health and beauty!
CosmeticOBS selection
LW
© 2018- 2021 CosmeticOBS
---
Associated elements(1)