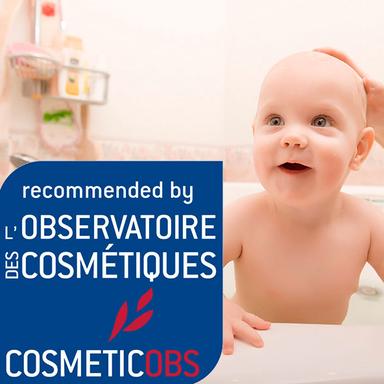 Which products are really suitable for a baby's very specific skin? How to avoid cosmetics that are potentially dangerous for the health of very young children, or those that can induce allergies or irritations? How can we respect the fragile balance of the epidermis of infants and choose truly safe daily care products that can be used with complete serenity? The answers to these questions, more topical than ever, are not always obvious to young parents, especially in a context of recurrent alerts and widespread suspicion towards cosmetic brands. To be practical and constructive, CosméticOBS-L'Observatoire des Cosmétiques offers a selection of products evaluated, tested and finally recommended by its experts. With 10 good reflexes to respect for "Babies well in their skin" !
You don't choose a baby cosmetic like an adult's. His skin, his body, his needs are different, and the risks that certain products can represent of a completely different scope !
The CosmeticOBS experts propose here a selection of products that they have judged safe and effective, according to criteria and requirements that each mother can make her own, in the interest of her child.
With, as a bonus, 10 reflexes to adopt to choose and use its cosmetics!
The expert advice
1: Respect and protect your skin
A baby's (or young child's) skin does not quite like that of an adult. It is an organ still being formed, not quite mature. It is therefore more fragile, drier, more reactive, more sensitive to external aggressions or UV rays, finer and more permeable, particularly to cosmetic ingredients. (Real) softness and protection are thus the key words which must direct the choice of all the products which are intended for him.
2. Avoid health risks
We know cosmetic ingredients that can be particularly critical for a baby. These are obviously particularly to be avoided during the very first years of life.
In this category, there are of course substances suspected of acting as endocrine disrupters, be they preservatives, perfumes or synthetic UV filters. A list of these compounds is proposed in the article Cosmetic ingredients identified as 'Endocrine Disruptors'.
Alcohol is also not recommended in baby cosmetics.
3. Preventing allergies
All dermatologists notice it: allergies (and especially those due to cosmetics) affect more and more children, younger and younger. To limit the risks of sensitization, the choice of products used every day is very important. In particular by avoiding all those that contain perfumes, including essential oils, one of the most frequent sources of allergic reactions, .
By also ensuring the absence in the composition of some of the preservatives most often involved in the triggering allergies, such as Methylisothiazolinone, Methylchloroisothiazolinone or Iodopropynyl Butylcarbamate…
4. Use few products (but good ones!)
A baby does not need many cosmetics to be happy, clean and smell good: a single gel can wash body and hair in the daily bath. A body cream or massage oil may follow, especially if the child has dry or irritated skin.
For small toilets and diapers, only a lotion is essential, a cream for the seat being recommended only in case of irritations, and not in regular applications.
Thus, daily, only three products, but well chosen, are enough… which limits both the budget and the risks of sensitizations or irritations, always increased by the multiplication of substances with which the baby is in contact since his youngest age.
5. Prefer short compositions
Similarly, it is best to choose the products with the shortest ingredient list. Again, the less the child is in contact with different substances, and the less likely he is to encounter one to which he is allergic or reactive.
In particular, it is wise to avoid perfumed or coloured products (which bring nothing in terms of effectiveness, but a lot in terms of allergy risks), and in general, very elaborate cosmetics, at least in the very first years of a child's life. Simplicity is often the mother of safety!
6. Do not choose on a crush
A nice colour, a pleasant scent, a label with selling accents… are not the criteria of choice when it comes to cosmetics for babies. Because they say nothing at all about the reality of the product, and even less about its quality or safety.
Reserve your favorites for your make-up (or your after-shave balm!). Never give in when it comes to choosing a cosmetic for your child. Only the reason and composition of the product should be paramount in your decision. We reassure you, this is not always incompatible with the pleasure to use…
7. Get rid of one's preconceived ideas
Just because it's sold in a pharmacy doesn't mean it's safe. Not necessarily good because it is organic… or always to avoid because it is very cheap or sold in supermarkets!
Some products distributed in pharmacies may contain ingredients suspected today of being toxic to the body. Some organic cosmetics contain too much alcohol or essential oils to suit young children. Some mass-market products are highly recommendable.
In any occasion, whatever the type of product, whatever its distribution network, it is better never to buy with your eyes closed on the basis of a ready-made idea. It is much better to get a fresh idea by taking a closer look at the product label and its composition.
8. Always keep a critical eye
Beware of advertising and sales pitches! They can give an indication about the product, but one should never expect (or so rarely!) exhaustive or even sometimes really accurate information.
The word "Gentle" written roughly on the label does not guarantee a truly non-aggressive formula for the epidermis. A reference like "Paraben-free" says nothing about the preservatives that replace them: sometimes they are problem-free substances, sometimes…
In all cases, only the list of ingredients (again… and always) gives precise information on the interest of the product.
9. Prefer pump bottles and opaque containers
Pump bottles are containers particularly adapted to the needs of babies… and their mothers.
On the practical side, they keep both hands free at all times, and it is better to use them to look after the baby than to hold a bottle or tube of product, even briefly.
On the safety side, they can also influence the composition by allowing, for example, less recourse to preservatives, which are not the sweetest cosmetic ingredient. By limiting the product's contact with air, and light if it is opaque, by protecting it from external contamination, they better protect the formula from oxidative or microbiological attack, and limit the use of chemical substances while guaranteeing product safety.
10. Make him a personal toilet bag
A baby's skin, very specific, requires cosmetics really designed for its particular needs and carefully selected ingredients. Two criteria that rarely apply equally to babies' skin and that of their mother. Even if some labels claim it…
CosmeticOBS selection
Cleansing gels
Cleansing lotions
Crèmes pour le change
::::::::: {.galerie #Diaper creams} :::::::::
Moisturising creams
Massage Oils
LW
© 2018- 2021 CosmeticOBS
---
Associated elements(1)