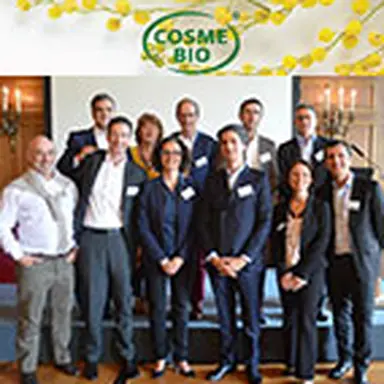 On June 7, 2016, the Professional Association of Ecological and Organic Cosmetics renewed its Board of Directors by introducing some changes. Romain Ruth, President of Cosmébio also officially announced the departure of Betty Santonnat, Development Director of the Association for eight years.
Betty Santonnat's dynamism and commitment are no longer described. She joined Cosmébio as Development Director in 2008, in the midst of the organic cosmetics boom, and has always worked to develop the sector and promote it with conviction.
Today, she leaves the association to"build[her] own structure while keeping in mind this respect for Man and the Environment which[she] holds dear"….
She will be replaced by Nicolas Bertrand as of September 1st. With a double technical and management competence, he also has eight years of experience in the organic sectors through Organics Cluster, a regional network of organic companies.
The new Board of Directors
Two changes should be noted on the occasion of the renewal of Cosmébio's Board of Directors: Nicolas Fouchère (BcomBio/Laboratoire Sicobel) has left it,"wishing to give way to new faces". Michèle Cros (Les Douces Angevines) joined him.
The new board
- President: Romain Ruth, CEO of Florame
- Vice-President: Samuel Gabory, CEO of Nature and Strategy (Pure)
- Vice-President: Pierre Charlier de Chily, President of Aldivia
- Secretary General: Philippe Laratte, President of Boutique Nature
- Treasurer: Alexis Fort, DG of P. Cattier SAS (Cattier)
- Assistant Treasurer: Agnès Ducrocq, President of Laboratoires Téane
- Administrator: Valérie Marcadet, Cosmetic Director of Laboratoires Léa (Lift' Argan, Jonzac, Natessance)
- Administrator : Claudie Ravel, CEO of Guayapi
- Director: Cyrille Droin, President of Phyto-Actif Laboratory (Esenka, Bioregena)
- Director: Régis Lelong, CEO of Odysud Laboratory (Acorelle)
- Director: Michèle Cros, Director of Douces Angevines
The Observatory of Cosmetics
© 2016- 2022 CosmeticOBS