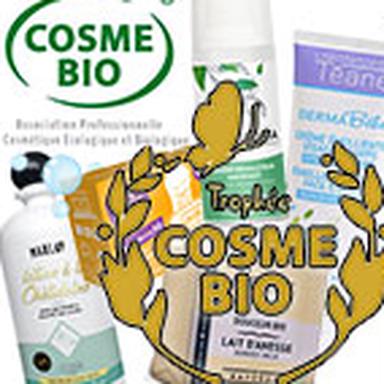 Cosmebio, the natural ecological and organic cosmetics professional association, organized their General Assembly on June 22, 2017. It was an opportunity to show participants how healthy both their label and the organic cosmetics market are – the association is a prescriber on the segment –, and to award the Trophies of the Year to five products selected by a jury of professionals and consumers.
Natural and organic cosmetics are still doing well. On the global level, they weigh 8.8 billion euros, and even if they only represent 1% of the overall market share, they boast a 14% growth.
Figures vary significantly depending on the regions of the world, but in France, the second European market of certified cosmetics, with 463 million euros in 2016, the organic cosmetics industry prides itself on representing 4.3% of the overall market. Growth remains steady and is even accelerating, driven by young generations, who buy more organic products than people aged 50+, on average.
Today, Cosmebio boasts a stable number of members (347), representing 438 brands and 9,073 labelled products, and who increased their turnover by 13% in 2013. It is still the most widely recognized label in France: 44% of the French declare they have already seen it (77% of women aged 25-54), and 38% associate positive values with it.
Now, that gives every reason to be optimistic and maintain the objective determined for 2020: ensure that one consumer out of two has at least one Cosmebio-labelled product in their bathrooms…
2017-2018 Trophies
The very warm atmosphere at the meeting – in addition to the ongoing heatwave in France! – did not get any cooler when the Cosmebio Trophies were awarded. A jury of 60 consumers completed with a jury of professionals had decided between 15 pre-selected products. And the winners are…

1. Anti-Shine Rebalancing Lotion – Centifolia
50 ml pump-bottle - €13.90 – Available in organic stores
Designed to rebalance the skin and regulate the production of sebum, as well as the associated shininess, this day cream is enriched in green tea hydrolate: its leaves are extremely rich in theine, polyphenols, and flavonoids, which makes them strongly antioxidant. Green tea is also recognized for its refreshing, purifying, and soothing virtues. In addition, this fluid contains an active that targets oily skins, zinc PCA, recognized for its sebo-regulating activity.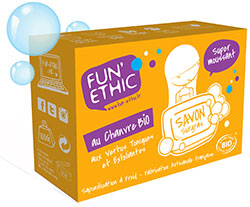 2. Le Provençal Soap – Fun'Ethic
100 g bar - €5.45 – Available in supermarkets
Manufactured on a small scale in Strasbourg, France, using cold saponification to preserve the properties and benefits of its raw materials, Le Provençal is a superfatted soap with 6.5% fats, which makes it very nourishing. It is naturally rich in moisturizing and softening glycerine and also contains organic hemp, known for its toning and firming virtues. And thanks to its poppy seeds, it can gently exfoliate the skin, leaving a fresh scent of hybrid lavender and petitgrain essential oils.

3. DermaBébé Emollient Cream – Laboratoires Téane
150 ml tube - €14.90 – Available in organic stores, pharmacies, and the Internet
This cream is formulated to hydrate and protect babies' sensitive skins, as well as fight against the typical symptoms of very dry, atopic skins: dryness, redness, and itching. It can be used as a complement to a corticosteroid-based treatment. To prevent any new eruption, it is recommended to use it on a daily basis.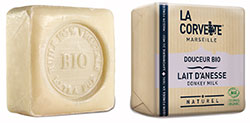 4. Savon Douceur Bio with Donkey Milk – La Corvette
100 g bar - €4.20 – Available in organic stores, pharmacies, and department stores
This soap is designed for body hygiene. It is based on palm tree oil and palm kernel and enriched in organic donkey milk, and it is also composed of a perfume. It is made in Marseille, France, using the traditional cauldron baking process, contains exclusively plant-derived oils, and is free from any chemical additive.

5. Lotion à la Chélidoine – Marlay
250 ml bottle - €29 – Available in pharmacies, parapharmacies, organic stores, spas, and online
The Marlay Lotion is a real breakthrough in the treatment of cuticles, corn, and callosities, which is why it was rewarded at the Concours Lépine in 1990. At the core of this organic version of the Marlay Lotion, you can find all the ingredients guaranteeing its efficacy, starting with chelidonium, which delicately, but very efficiently dissolves all dead skins.
© CosmeticOBS-L'Observatoire des Cosmétiques
© 2017- 2022 CosmeticOBS