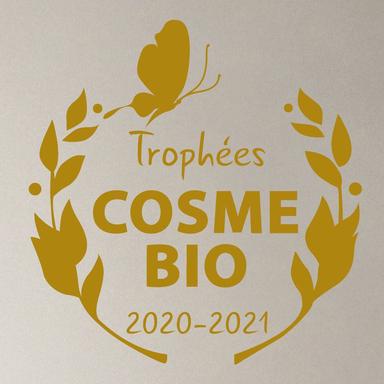 The French trade association Cosmebio has unveiled the winners of its 2020-2021 Trophies which reward the best natural and organic labelled cosmetics of the year. The awards ceremony took place during Cosmebio's General Assembly on 29 September in Paris.
Each year, the Cosmebio Trophies reward brands for the quality of their products and the ethical approach to which they adhere. Here are the different ethical commitments that have been rewarded during this new edition of the Cosmébio Trophies 2020.
• Contribution to the ecological transition: the brands demonstrate a strong ethical commitment through their eco-responsible products.
• Sustainable innovation: products stand out for their innovative formula or packaging.
• Young sprouts: this category rewards companies that are less than 5 years old and the innovative and ethical potential of their products.
• Support and development of sustainable supply chains: the sourcing of ingredients encourages the development of sustainable and ethical supply chains, such as local cultures.
The candidates
Contribution to the ecological transition
Sustainable innovation
Young sprouts
Support and development of sustainable supply chains
The winners
LW
© 2020- 2021 CosmeticOBS