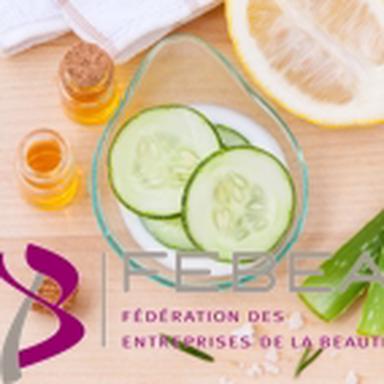 DIY is real trendy right now, it is absolutely everywhere. The web is teeming with recipes, tutorials, and all kinds of other tips to prepare your own beauty products yourself. What is the promise? Having safe skincare products, knowing what ingredients they contain, and saving money, while having fun. Beyond the pleasure provided by the activity itself, there are rules to take into account if you want to take up homemade cosmetics. FEBEA (French Federation of Beauty Companies) launched a campaign to raise consumer awareness of the basic rules to follow to make sure they are safe.
At a press workshop organized on Tuesday, November 14, 2017, Anne Dux, FEBEA's Scientific & Regulatory Affairs Director, detailed five fundamental good practices in DIY cosmetics.
Choosing the recipes and ingredients
The best is the enemy of good: this adage also applies to cosmetics. If you want to make your own beauty products, you had better start by preparing simple skincare products with quite short a list of ingredients.
Before you set your heart on a tutorial, make sure the author is familiar with cosmetics regulations – it is absolutely essential. Everyone does not know that in Europe, i.e. in France, about 2,000 substances are prohibited in the manufacture of cosmetic products, and the use of 300 other ingredients is strictly regulated. Anne Dux adds that 'it is good manners to compare several recipes and determine which one is the most coherent.'
As regards the purchase of raw materials, she invites consumers to 'turn to the European suppliers recognized on the market,' so that the substances you buy comply with the rules in force.
In addition, FEBEA recommends 'using products and/or ingredients with instructions in French, asking a professional for advice before using essential oils, selecting organic-certified plant-derived ingredients, and favouring high quality clay, so that it does not contain heavy metals.'
Precautions for use
• Hygiene rules
No matter how clean they are, kitchens and bathrooms do not involve the same hygiene rules as a cosmetics laboratory. It is essential to adopt basic gestures like thoroughly washing your hands and cleaning the work surface and utensils you are using. 'Contrary to what most people think, alcohol does not clean anything, it fixes germs. So you need to use detergents,' Anne Dux explains.
• What containers?
Microbiology also involves a few issues. Anne Dux explains that 'consumers can definitely choose to add preservatives to their formulas. However, if they decide not to, they need to adopt a different behaviour, whether the product contains water or not. There is no problem with preservation with oils and perfumes, but if you are making an aqueous emulsion, there is a risk of microbial contamination. We recommend using closed containers with a size adapted to the quantity of skincare made.' She adds that it is preferable to choose pump-bottles and avoid putting your fingers in contact with the product. Lastly, opaque and glass containers are ideal, because they prevent container/content interactions and degradation due to light.
• How to preserve homemade products?
As regards preservation, 'FEBEA has decided that if a consumer makes an aqueous product without any preservative, he can keep it 15 days in the fridge. There are no scientific data to justify this choice, but this period of time seemed reasonable to us. Most of the time, people use essential oils that are not authorized as preservatives in European regulations, but which do have preservative properties,' Anne Dux explains.
Adverse effects
She points out the fact that industrial cosmetic products are usually very well-tolerated and that there are few adverse effects. The problems you can have when you apply them have more to do with allergic skin reactions. The risk is no less important with homemade cosmetics. How to make sure you will tolerate all the ingredients used in the formula? Just apply a small quantity of product on your forearm and wait 48 hours before using the product on your face or whole body.
Conditions for use
To best ensure health safety when consumers make their own cosmetics themselves, Anne Dux always recommends 'not making products for the eye contour. It is a direct entry to the brain. In fact, in terms of regulations, skincare intended for this area should comply with specific microbiological safety rules. As a result, it is extremely dangerous to make an eye contour or mascara in your kitchen.'
Generally speaking, FEBEA recommends handling essential oils with caution and never applying them on wounds and mucous membranes, not making sun products yourself, and asking a dermatologist for advice if your product is intended for a skin with disorders.
Recipe promotion and advertizing
Under European cosmetics regulations, someone who makes their own products does not need to comply with the rules in force. However, 'if the products are sold, the creator needs to abide by the law, because it involves responsibility issues. Even if it is a recreational activity, as soon as there is a bill of sale, the status changes and you become a cosmetics manufacturer, even if you make the products in your kitchen. There are changes in terms of implications as well: you need to comply with the European regulation, declare your business to the competent authorities, and set up a File for every product you make.'
If you provide and post recipes online without selling finished products, you are responsible for what you share. 'Your recipe needs to be safe. If it is not subject to cosmetics regulations, it has to be compliant with the general safety requirement. Once the product is made, it should be compliant and provide a result that can be evaluated in light of the law in force as regards the composition and interaction,' explains Anne Dux.
In the event of a dispute, if the recipe is compliant, the author cannot be held responsible, because no one will ever be able to provide evidence the consumer has followed the instructions given as such. In addition, if there is an allergic reaction to one of the ingredients, these grounds cannot be attributable to the prescriber.
Cost
The economic aspect can be a decisive factor to start making homemade products. Still, Anne Dux reminds of 'the cost of certain raw materials. A complex cosmetic product requires expensive ingredients. Besides, the volumes purchased are often much greater than those used, which represents a significant financial loss.'
More than a fashion phenomenon, the DIY cosmetics trend seems to be gaining more and more prominence. But if it is playful and fun, it does involve risks and requires much rigor. Better safe than sorry – even with beauty.
© CosmeticOBS-L'Observatoire des Cosmétiques
© 2017- 2021 CosmeticOBS