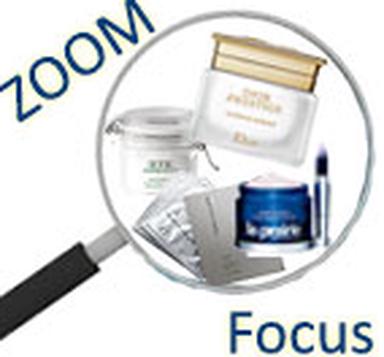 After the before-summer scrubbing masks, here come the autumn recovery masks! As new "must-have", the night or morning masks challenge the specific eyes contours or décolleté … A focus on the week's hot picks, by Ariane Le Febvre.
An "egophile" product par excellence, meaning one has to spare some time for oneself, the face-care mask is popular!
Does it stand for this so-dear-in-our-times "refocusing on the individual" behavior, or does it more simply epitomize this search for "time out just for oneself" (the "mask moment" is as important as its composition to provide relaxation!), which boosts our skin as well as our morale? A bit of lightness in this world of heavies … Furthermore, entertaining! In fact, after having covered one's face, and hidden it completely, there is always a moment of suspense, when revealing one's skin metamorphosis in the mirror, once all is taken off! The truth is, we do like it, constantly ready to test a new mask in the secret of our bathroom! A beauty mask is peculiar in that it makes us, often, hide, to … unmask the result!
Anyway, launches are as numerous as birds in the when gathering to leave our countries when autumn is on the verge to come …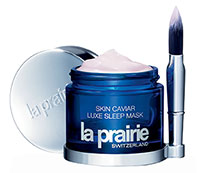 The most "trendy"? The night masks (La Prairie, Skin Caviar Luxe Sleep Mask, 50 mL, €264; Dior, Le Grand Masque Dior Prestige with Granville rose nectar, 50 mL, €203; Daniel Jouvance, Océacible Repulpong Wrinkle Mask, 30 mL, €25;these 3 masks, available in October – Kiehl's, Ultra Facial Overnight Hydrating Mask, 125 mL, €30; add Embryolisse Anti-Aging Comfort Mask, 60 mL, €21.90, from December). The night masks are also available in the beauty salons brands (Esthederm, Instant Repulp Mask Lift & Repair, 50 mL, €49; Académie, Multi-Vitamin Mask, 75 mL, €38 €; Decléor, Wrinkles Lift Mask Filling Prolagene Lift, 30 mL, €32). Logically, as the "as efficient as a beauty salon care" argument is almost always alluded to!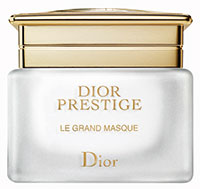 These masks that require massage – expert movements come with them – are among the beauty rituals that Asian women do like so much. One of the first brands to have presented a mask with a built-in brush, for a more precise application, is Sampar (Night Spring Mask, 50 mL, €39€, in Sephora). They may be used one or twice a week instead of the night cream. They are richer and plumping, and their smooth-cream texture wraps our skin, and provides it with plenty of hydrating,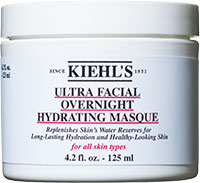 oxygenating, repairing ingredients … Apply them as a thick layer (the occlusion effect enhances penetration of the active ingredients) on the overall face and neck, while avoiding the eyes contour, always prone to swelling. Delicately massage so that your skin takes all their benefits; let for circa ten minutes. Then, absorb the excess with a paper towel, while letting a thin layer work all the night long.
In this rapidly-increasing large family of anti-aging masks, there are also crystalline gels that are at the same time exfoliant, hydrating and regenerating. They are presented as rinse-off (Yves Saint Laurent, Intense Mask Forever Youth Liberator, 75 mL, €62) or as single doses, so practical if you balance about the quantity to apply (Astalift, Pumpling Hydrating Mask, €12 per mask in stretchy material impregnated with serum; Dr.Pierre Ricaud, Pro-Lifting Mask Collagenes 9 with active collagen, 10 sticks, 6 mL each, €25).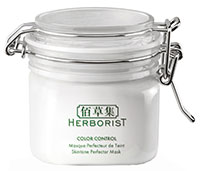 On the contrary, there are the "morning masks", riding a wave of "BB creams" (Erborian Perfect Morning BB Mask, €28for an eight-doses, 1.2 gram each, in Monop' Beauty and Monoprix). The "Asian mood" is there too with the – Chinese! – Color Control Skintone Perfector Mask, by Herborist, with a so embellishing pearl powder (260 g, €39, in Sephora; this brand had already presented its Silky All-day Moisturizing Lazy Beauty Facial Mask, 120 mL, €32).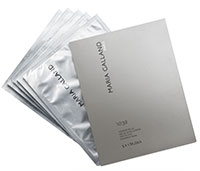 Some novelties, too, in the organic world (Bio Beauté By Nuxe, Vitamin Detox Mask with orange water, all skin types, 50 mL, €18; Lift'Argan, Anti-aging Sublime Smoothing Creamy Mask with organic saffron flower, 50 mL, €15.15).
Finally, after the eyes contour gel-masks, or available as patches (Darphin, Eye Sorbet Mask, 15 mL, €29;Annemarie Börlind, Aquanature, Eye Patches Instant Vitality, 6 X 2 patches, €26.40), here comes the first mask for décolleté, forecast for November (Maria Galland, 1032 Décolleté Radiance Mask, foil-sachets box, €125).
Obviously, the masks sector is not lacking inventiveness!
© CosmeticOBS-L'Observatoire des Cosmétiques
© 2013- 2020 CosmeticOBS