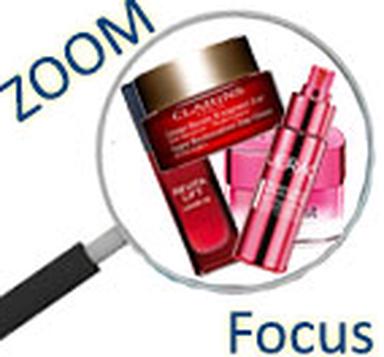 Ruby red, cherry red, carmine almost as raspberry red…the new cosmetic anti-ageing products go as red as a beetroot! In their flashy colours or their grenadine texture, they provide a healthy-life-like feeling! A focus on the new products of the week, by Ariane Le Febvre.
They light up our eyes and provide our bathroom as well as our skin with a real kick! And it really needs it, to recover after an unusually hot summer! By playing the vitality card, the bright-red anti-ageing product gives its energy to the energetic '50ers of today. No way to let them going to go easy!
Clarins has been one of the very first brands to sense the modernity of such a hue, by launching, as early as 2004, a poppy red programme for mature skin subject to hormonal imbalances (the Multi-Intensive programme).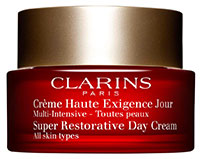 An intuition of its founder, Jacques Courtin-Clarins, who wanted to enhance an offer for a target who was more and more asserting itself and whose mood was changing. An audacious commitment, then … (among the latest in this programme: Crème Haute Exigence Jour Multi-Intensive SPF 20, 50 mL, €94.40; Double Sérum, 50 mL, €99.80).

Summer 2013, crimson sets alight the supermarkets, with launches such as the Garnier Ultra Lift programme, designed for the '40ers (Serum + cream, a global anti-wrinkles care, 2-in-1, 50 mL, €11.90; Serum + cream, night repair anti-ageing care 2-in-1, 50 mL, €11.90, Serum + cream, anti-wrinkles eye-care 2-in1, 30 mL, €11.90).
After its madder red Revitalift Laser X3 programme, L'Oreal Paris sanctions the fuschia red with Sublimist (Soin Hydratant Correcteur Peau Parfaite - Correcting moisturizing care for a perfect skin, 50 mL, €12.40; Soin Jour Concentré Correcteur Peau Parfaite - Correcting concentrated day care, 30 mL, €12.90; Soin Yeux Anti-Cernes Regard Parfait - Anti-dark circles eye care, 15 mL, €12.40; Touche Magique Floutante Instantanée, 15 mL, €12.40; BB Crème 6-en-1 Perfectrice Instantanée, 50 mL, € 12.40).


The least one can say is that the L'Oreal Group brands rely on this hue.
The luxury world turns crimson in its turn, with the ruby pink gradation of the three Lancôme DreamTone care. This Ultimate Dark Spot Corrector - Beautiful Skin Tone Creator (40 mL, €95) is available since 26 August 2013.

Daniel Jouvance, too, picks up a red-colour cast for its programme, Océacible Rides (Oceacible Wrinkles), as an all-over (Sérum Intensif, 30 mL, €52), or as small touches (Cure Lifting, 10x3 mL single doses, €50; Stylo Combleur Instantané rides rebelles (Anti-Wrinkles filling pen), 14 mL, €25; Masque Repulpant, 30 mL, €25, in October).
However, the "most crimson" programme will, undoubtedly, be in pharmacies beginning October: Lierac, with its Magnificence programme (Intensive Revitalizing Serum, 30 mL, €72, with a grenadine red texture; Day & Night Velvety Cream, 50 mL, €65; Day & Night Melt-In Cream-Gel, 50 mL, €65; Soin Précision Regard, pinceau 4 g, €39).
Let it be said: this 2013 autumn, the wrinkles get-up-and-go!
© CosmeticOBS-L'Observatoire des Cosmétiques
© 2013- 2020 CosmeticOBS