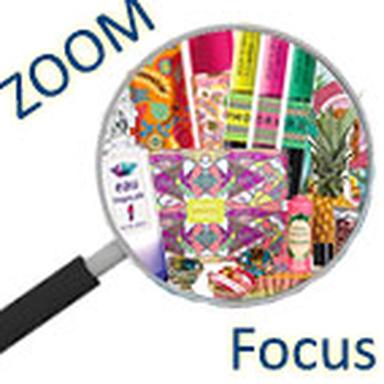 From perfumes to body care products, sunscreens and nail polishes, beauty is becoming Brazilian time. Colorful and sexy, she announces the promise of a very hot summer… Zoom on the cosmetic novelties of the week by Ariane Le Febvre.
2014 promises to be Brazil's year. The"World Cup" effect makes it impossible to escape the cosmetics inspired by this country from now on: tropical perfumes, make-up in the colours of birds of paradise, ingredients from lush forests, cariocas body rituals… Beauty vibrates this spring and into summer to the rhythm of samba. Our overview of what's new so you don't have to sit on the sidelines!
" Brazil has a tremendous life force. This energy is palpable at every moment in nature, in cities, in artistic creation "says Olivier Baussan, founder of L'Occitane, which has created a whole collection of perfumes and scented skincare products (L'Occitane in Brazil, in limited editions, starting April 16) paying tribute to both ingredients and Brazilian designers (the packaging is designed by local artists). One can thus find two eaux de Cologne, day or night: - Vitória Régia Jour is a floral, green and fresh fragrance (Eau de Cologne, 100 ml, 32 € or 300 ml, 48 € ; Shower Gel, 250 ml, 14,50 € ; Body Lotion, 250 ml, 23 € ; Hand Cream, 30 ml, 7,50 € ; Translucent Soap, 75 g, 4 €). - Vitória Régia Nuit exhales a more powdery scent, dominated by gardenia (Eau de Cologne Flor Da Noite, 100 ml, 32 € ; 300 ml, 48 € ; Soap Flower, 100 g, 7.50 € ; Soap Translucent, 75 g, 4 €). As for Jenipapo (a fruit tree of the Cerrado), this solar and acidic fragrance is ideal for summer. Citrus and watermelon blend with frangipani blossom and a piña colada accord (Roll-on perfume oil, 10 ml, €20; Shower Oil, 250 ml, €16.50; Body Lotion, 250 ml, €23; Translucent Soap, 75 g, €4).
The energy of the Brazilian sun can be found in other spring perfumes, such as Guerlain's latest Aqua Allegoria (Limon Verde, eau de toilette 75 ml, 59 € or 125 ml, 81 €), where you can enjoy a caïpirinha under the lemon trees on the banks of the Amazon River. The sparkling lime combines with the sweetness of cane sugar (cachaça accord) and the round warmth of tonka bean. The result is a tropical hespéridé, joyful and dancing.
With L'Eau Tropicale de Sisley (eau de toilette 100 ml, 112 € or 50 ml : 67,50 €, in May), a generous and exuberant tropical landscape emerges. That of an imaginary forest, lush, fresh and delicious, crossed by exotic flowers (hibiscus, frangipani, passionflower, tuberous air and solar), spicy (ginger) and zesty (bergamot) notes. The base (patchouli, ambrette seeds, cedar) gives it an unexpected power and a beautiful hold.
Born In Paradise d'Escada (eau de toilette 100 ml, 68 €, limited edition) plays with the pulpy and thirst-quenching flesh of exotic fruits and leaves an impression of wild nature.
As for Sol Da Bahia Summer water from Lancaster (100 ml, 49 €), this water that can be carried in the sun reminds the beaches of Bahia and the smell of coconut, musk and hot sand.
Care: the Brazilian way …
To play the beautiful cariocas all summer long, Sephora has concocted the Agua de Rio range with refreshing aquatic fruit notes, available from April 7. Inspired by Brazilian rituals sensual and lascivious, you can find a Moisturizing Body Sorbet (250 ml, 9.95 €), a Foaming Shower Bath (260 ml, 7.95 €), a Hand Cleansing Cream (250 ml, 4.95 €), Sparkling Bath Pebbles containing a Surprise Gift (40 g, 3.50 € each) and even a Rio Agua Box with Shower Bath, Hand Cleansing Cream, Sparkling Pebble and Shower Flower (16.95 €).
As for the Boxes, Birchbox is offering its own on the theme of Brazil in partnership with Hipanema (49 €, subscription). This Beauty Box contains a Hipanema bracelet, a sharp selection of care and make-up made in Brasil (Granado foot talc in flashy packaging, Ekos Castanha Natura Brasil hand cream, Sand nail polish by Crabtree & Sand); Evelyn, a pretty beige with brilliant reflections which reminds the beach and the sun of Copacabana), the whole seasoned with surprises, like the coconut water 100 % natural Vaïvaï, to make more beautiful the prospect of the football evenings to come ! Birchbox carried out a funny study on this occasion, informing us that 32% of women have their nails done in front of football matches and that 93% of them usually organise a girls' evening or a cocooning evening during the latter ! (study conducted by Birchbox in February 2014 on a panel of over 400 women).
Let us also mention the recent line based on Andiroba oil from the Brazilian brand Natura Ekos, based on ingredients derived from Brazilian biodiversity, harvested in a sustainable way by communities in Brazil. This oil with soothing, repairing and softening properties is as beneficial for the skin (Andiroba Massage Oil, 100 ml, 16 €), as for damaged and weakened hair (Andiroba Shampoo, 300 ml, 12 €, refill 9.60 €, Andiroba Conditioner 300 ml, 13 €, Andiroba Hair Balm, 150 ml, 18 €).
As for Guayapi, who has always been the champion of organic and ethical ingredients from the Brazilian Amazon, she proposes a new Coup d'éclat mask with antioxidant acerola (60 g, 21 €), to be diluted in 4 times its volume of water.
The Brazilian cult of the beach
Autobronzers and sunburners are also being introduced in Brazil's colours, whether as ingredients or as new summer decorations for 2014. Lancaster has relooked its cult products and their cases (Sun Beauty Velvet Tanning Milk SPF 30, 400 ml, 45 €; Sun Beauty Intensive Tanning Tinted SPF 15, 200 ml, 35 €, limited editions). Designed by Clements Ribeiro (Suzanne Clements and Inacio Ribeiro), a duo of Anglo-Brazilian fashion designers, they offer an Art Deco style, carried by colourful motifs (exotic flowers). The Coty Prestige group's flagship also offers a very carioca face and body self-tanner (Self Tan Beauty Trip To Copacabana, Delice fondant self-tanner intense sublime tan, 200 ml, 35 €).
Other solar"feito no Brasil" (made in Brazil), those of L'Occitane in Brazil in the Jenipapo range that allow you to tan beautifully (Face Veil SPF 30, 25 ml, 22 € ; Lip Balm SPF 15, 15 ml, 9.50 € ; Protective Body Lotion SPF 20, 150 ml, 23 €).
As for Galénic, among the novelties in its solar range at Uncaria d'Amazonie (a canopy vine that preserves the DNA of cells, prevents the appearance of wrinkles and offers antioxidant protection 40 times greater than that of vitamin, The brand tells us), the Fluide non gras face High Protection SPF 30 (40 ml, 16 €) brings a matt and unified finish and, in after-sun, the Milk embellishing body and face (200 ml, 17 €) soothes, hydrates and prolongs tanning.
Tropical colours and prints were already omnipresent in the spring/summer 2014 fashion shows; logically, we find them in make-up and varnishes. This is the case of Sephora's Diva Carioca collection, which allows you to warm up your complexion (Sol de Rio tanning powder, giant box 25 g, 16.95 €), or make-up or nails in technicolor (Tropical Eyes Mascara, 2 x 4 ml, 15.95 € .); Rock'in Brazil Eyeliner Sephora, 2 x 4 ml, 14,95 €, 4 duos of shades ; Rouge Sephora, 10,95 €, in Samba, Carnival or Flamingo shades ; Kit of 4 nail polishes "Paint Rio in neon", 4 x 5 ml, 15,95 €, 4 colours : green, lemon yellow, orange, bright pink).
The same for Brazil Fever d'Arcancil (from April) and its lively and exuberant tones : Flash Liner emerald green (3 ml, 8.90 €), Eyeliner turquoise (1.5 g, 11.50 €), Mascara Arcancilmatic Golf Green or Gallic Blue (5 ml, 9 €), glittery or matte eye shadows Amazon Green or Azure Blue (Color Artist Mono, 3 g, 7.90 €), coral varnish fluo or yellow Stabilo® (Nail Varnish Voltage, 10 ml, 6.90 €). Even its famous Parisian Spray (a glittery powder in a spray bottle with a pear) comes in the Gold Janeiro shade (3.5 g, 10.50 €).
Carnival shades always for ProNails Jungle nail polish (10 ml, 12,50 €) or O.P.I Brazil (15 ml, 13,90 € ; Box of 4 Liquid Sand® mini-varnish, 4 x 3,75 ml, 20 €). Intense red, orange, flashy pink, coral, jungle green, turquoise, lemon yellow… add a sexy coloured flash at your fingertips.
Brazilian fever is just beginning…
The Observatory of Cosmetics
© 2014- 2020 CosmeticOBS