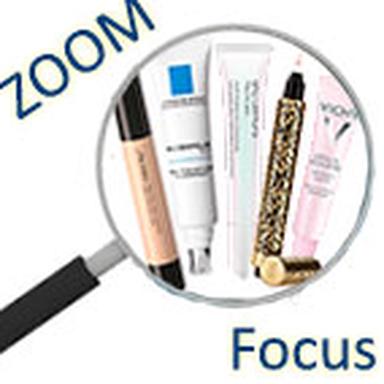 Halfway between skincare and make-up, this is a new segment whose mixology is taking hold! The latest concealer clearly plays the brightness card. They sublimate, hydrate and treat dark circles, wrinkles, bags… in innovative packaging. Zoom on the cosmetic news of the week by Ariane Le Febvre.
Our dark circles have been all over the place lately. Their blue, red or brown pigments are peeled under an electron microscope, their texture and light sifted through the labs, we had no idea that the subject was so complex! It must be recognized that the eye area is that of all dangers and remains one of the most difficult to correct visually (the slightest pigment, the slightest cosmetic material the mark). But whereas, until now, we did not see much difference with fuzzy pigments, real progress has been made in optical science and galenics, really aerial. The new formulas effectively illuminate the eye contour area from the first application and combine all optical and biological corrections. With shades, more or less"care" or"make-up", whose marks adjust the cursor according to the products. The only constant is brightness.
The most"care"
No more classic formulas that act on a single enemy of the eye. Thus, Tsuya Skin Eye Concentrated youth reactivating eyes Shue Uemura (46 €, from March 20) claims"an enlarged look, more curved lashes, a sublimated make-up". It combines moisturizing, firming (Rhamnose), decongestant (Umaguri Saponin or horse chestnut extract that stimulates microcirculation and reduces the accumulation of toxins involved in dark circles) and"lightening" (Tripearl complex that combines 3 bright microparticles: Softylite + Lightening Powder + Silky Blue Pearl). Same for Idéalia Yeux de Vichy (15 ml, 22 €) which acts on the texture of the rings, their color and their light. First"idealizer of the eye contour", it reduces dark circles, smoothes fine lines and relaxes the eyes. Its originality? It corrects pigmentary and vascular dyschromias, illuminates dark areas and refines skin texture thanks to LHA (Lipo-Hydroxy-Acid, derived from salicylic acid). Finally, its applicator with a flexible silicone tip, designed to be as soft as finger contact, allows precise dosage to the drop (one is enough). Pigmentclar Yeux, La Roche-Posay concealer (15 ml, 24 €), also corrects blue (caffeine) and brown (anti-stain complex) rings, by acting on the melanotope (the environment of the melanocyte). According to the brand, the blue rings are due to a slowing of microcirculation in the periocular region, an area very stressed by the continuous movement of the eyes. Brown rings, on the other hand, can be located all around the eye, a location that Asians call"panda eyes". They result from an overproduction of melanin in the eye contour area. These two types of rings are all the more visible as the skin in this area is as thin as a membrane. The texture enriched with light-reflecting pigments also illuminates the eye contour area. And the metal applicator, whose rounded tip perfectly fits the area, allows massage while providing an intense sensation of freshness. We find LHA, as well as peptides, pro-retinol, antioxidant ginger, vitamins… in the Miracle Eye Anti-Aging Skin Transformer Treatment from Garnier (15 ml, 11.90 €) which has just arrived in mass distribution. But what we love most about it is its white microcapsules that reveal their pigments on application to wake and relax the eyes. The brand also proposes UltraLift Complete Beauty, Anti-wrinkle, firming and radiance activating eye contour care (15 ml, 9.90 €). Light is still at the heart of the StriVectin Anti-Aging Illuminating Eye Corrector (15 ml, 29 €, Sephora) and Farme Horn Fatigue Zero Eye Care (30 ml, 10.90 €), packaged in a tube brush. Dr. Brandt's Revitalizing Retinol Eye Cream (15 ml, 55 €, at Sephora) combines retinol and ruby microcrystals to reduce wrinkles and even out the skin.
Range of shades for the most"make-up artists"
In the CC or BB eye contour creams movement, after Dior in 2012, it is the turn of Algotherm (BB Marine Cream Yeux, 15 ml, 24.20 €), Sephora (CC Eye Cream + Corrector, 15 ml, 14.90 €) and Bourjois (1.2.3 Perfect CC Eye Cream Correction Couleur anticircle, illuminating care, 1.5 ml, 9.95 €, 3 shades) to reconcile the effectiveness of a moisturizing and smoothing eye contour care with pigments that even and illuminate immediately. Some formulas are equipped with SPF 15 and a smoothing silicone applicator (the case of Bourjois). Other versions clearly classified in make-up: - Shiseido Eye Corrector Veil, in brush (3.8 ml, 29.50 €, 3 shades) ; - Ideal complexion Roll-on concealer illuminator Vichy (15 ml, 15 €) ; - Les Perfecteurs, Touch 0 Dark Circle & Imperfection Defect DR Pierre Ricaud (10 ml, 18 €) ; - the Remedy Concealer Pen Corrector by Marc Jacobs Beauty (2.5 ml, 29.90 €, 7 shades, from March 15 at Sephora), an illuminating concealer corrector with a refreshing palladium applicator. Creations that follow in the footsteps of Yves Saint Laurent's cult Touche Éclat (a copy sold every ten seconds around the world, depending on the brand), which has just released a Collector's Edition in a gold and black panther motif (Wild Edition 2014, 2.5 ml, 34 €, 3 shades).
We are entering the era of concealer with fluid and ultra-fine textures and light pigments. Far, very far from the compact, covering and pasty concealer that we still saw a short time ago.
The Observatory of Cosmetics
© 2014- 2020 CosmeticOBS