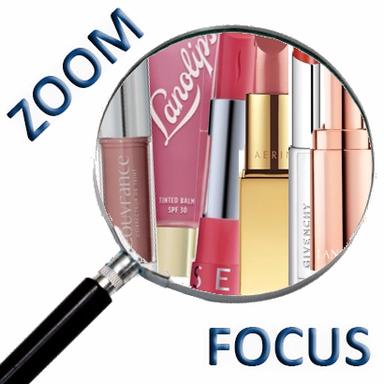 Tired of the mat? Spring lipsticks offer the comfort of balms. Little loaded with pigments, less "involving" than real lipsticks, they seduce women who don't want to look too much made up, nor spend hours drawing themselves perfect lips, just give themselves a little pep's…
When color takes care of the lips
Easy to wear and apply (almost without a mirror!), these new lipsticks give the impression that you've made an effort!
Guerlain (Kiss Kiss Rose Lip, €37.50, seven shades) and Lancôme (L'Absolu Mademoiselle Shine, Rouge Sensation Baume Embellisseur de Lèvres, €31, 15 shades) were among the first to offer them.
Carried by moisturizing formulas (rose extract, hyaluronic acid and jojoba oil for Guerlain, Proxylane and rose oil for Lancôme), they pamper the lips and are perfect to enhance a natural look.
In perfumeries this spring, almost all luxury brands have their own: Givenchy has launched its Rouge Perfecto in Tinted Lipstick (€40.90, limited edition), Chanel has just released its own in its Les Beiges Collection (Baume à Lèvres Belle Mine Intense, €36). Its brick red shade is designed to blend naturally with all skin tones. Its melting and creamy texture, composed of a derivative of vitamin E and moringa butter, nourishes, protects and envelops the lips with pleasant comfort. On the lips, the color appears bright and transparent.
Yves Saint Laurent, in turn, imagines his own: Volupté Plump-In-Colour has a plumping black heart with mint essential oil for a plumping lip effect (€35, eight shades), while Rouge Volupté Shine (€35.50, 12 shades) is an ultra-comfortable balm composed of 65% oils and a pomegranate extract, with a fresh mango scent.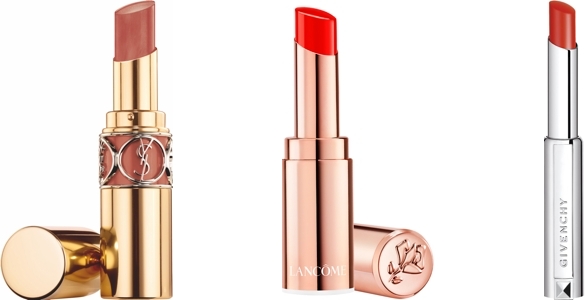 Ultra-sensory reds
Because sensoriality is another added value of these red balms.
Dior's are encapsulated in a soft musky vanilla fragrance (Dior Addict Stellar Shine, €38, 24 shades with different glittery, metallic finishes…) and melt on contact with the lips. The formula, infused with aloe vera, provides 24-hour hydration and long-lasting comfort. Even at the end of the day, lips are soft and supple.
The Maison de l'avenue Montaigne has also opted for this generation of red balms, since after Dior Lip Glow, a moisturizing lip balm that enhances colour (€36), it has also developed Dior Addict Lip Glow To The Max which focuses on shine, the double colour and changing reflections (€36.50, seven shades), and Dior Addict Lip Maximizer with hyaluronic acid spheres which offers maximum hydration and an instant volume effect (€36.50, eighy shades).
L'Occitane innovates with, on the one hand, a colour enhancer balm with an astonishing yellow colour (Baume Perfecteur Fruité Le Yellow, €22), and on the other hand, a range called Rouge de Fruit (€19, eight shades), moisturising lipsticks with a fruit core, enriched with vitamin E and pomelo, carrot and pomegranate oils.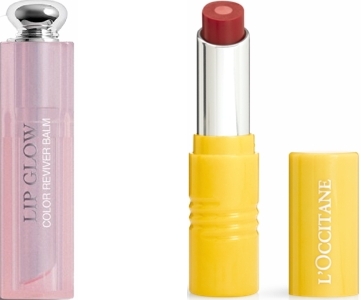 Sephora Collection offers one with yuzu extract (Rouge Baume SPF 20, €10.99, seven shades).
Lanolips (Moisturizing Lip Balm SPF 30, €11.99, four shades) and Fresh (Sugar Tinted Lip Treatment SPF 15, Lip Tinted Balm, €25, 15 shades) offer their famous nourishing balm in a tinted version at Sephora.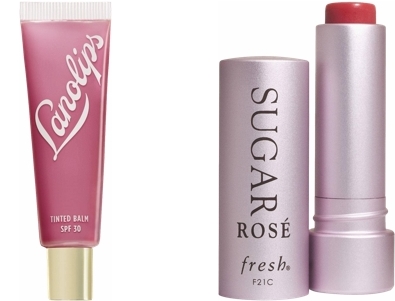 Darphin is the only brand to offer them in jars, with flower petals and a reactive hue for a touch of pink radiance (Lips and Cheeks Balms Tinted with flower petals and grape and apricot oils Nourishing Rose, Blueberry Smoothing, Calendula Rejuvenating, €33, at Marionnaud).
Finally, Aerin (Estée Lauder's granddaughter) created Les Rouges à Lèvres Baume de Rose (€35, five natural shades).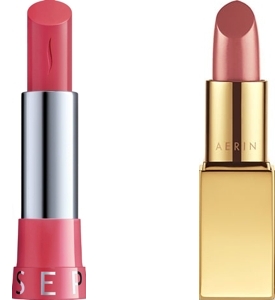 Lip balm…
Even the very dermatological Avène is getting into it with its lip balms covering SPF 20, designed for sensitive lips (€16.40, three shades).
And in this beautiful month of May, he is starting to arrive in supermarkets, with L'Oréal Paris (Plump & Shine by Color Riche, €12.30, nine shades), or Revlon in the form of large jumbo pencils (Balmstain Baume Colorant, €8.50).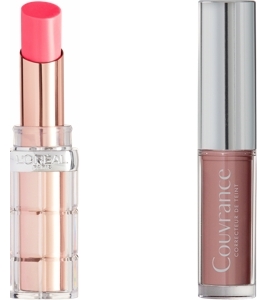 Ariane Le Febvre
© 2019- 2021 CosmeticOBS