Brow makeup is getting increasingly long-lasting.
There were already a few longwear creations:
• Tattoo Brow Ink Pen by Maybelline New York (€12.90, two shades) for dyed brows that last three days,
• DiorShow All Day Brow Ink by Dior (€30, three shades),
• Ka-Brow waterproof Cream-Gel Eyebrow Colour by Benefit Cosmetics (€28.50, six shades)…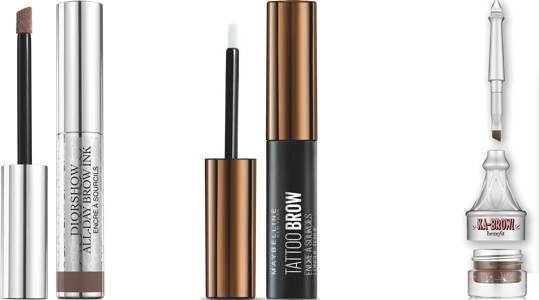 Lancôme's new Brôw Densify Powder-To-Cream also offers long-lasting results (€25.40, 16 shades, including a real cheeky pink colour – another niche micro-trend). This exclusive transfer-free, ultra-resistant powder formula turns into cream when it comes in contact with the skin.
Talika went even farther with Brow Tintation, semi-permanent dye (€25.90 for a 4.2 ml bottle, up to seven uses on both brows), the first non-oxidative, DIY brow dye to last up to three weeks! Composed of 80% natural ingredients, including a jagua extract (usually used by Amazonian tribes for long-lasting tattoos), its universal shade suits all brow colours: only the time to leave it on varies (from 30 minutes to 1 hour). Thanks to a patented electrostatic bond (a non-chemical reaction involving positively-charged, tone-on-tone dyes, whereas brows naturally carry a negative charge), the dyes get securely fixed around the brow fibre through ion affinity, without any tingling sensation or having to mix products for the application. They create a natural, adjustable, reversible effect. The darkened brows look denser, while remaining visible without any makeup, for an intense look at all times.