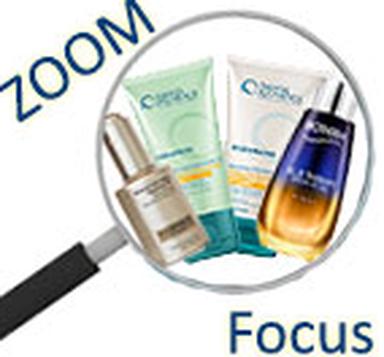 From the ocean beds to our epidermis surface, oils from micro-algae wrap us with their benefits. A lipid connection to our skin, nutrition and regenerative virtues on top. A focus on the week's hot picks, by Ariane Le Febvre.
It is a long time since the strong biological affinities that link aquatic organisms (especially, some algae/seaweed) and our skin are known. Among the somewhat 700 new marine molecules identified every year, oils from micro-algae come with a real potential.
However, finding them in the INCI lists (the lists of cosmetic ingredients) is difficult, as they appear under a common denomination: Algae, Algae extract or Plankton extract . This is not a hurdle for our skin to do extremely well with their omega-3 (poly-unsaturated fatty acids).
An alternative to vegetable oils, the micro-algae oils (not to be confused with algae oily extracts) offer nutritional and anti-irritant benefits, along with a rare bio-mimicry. Daniel Jouvance uses them since some time (in its Lip Protector Balm, stick 3.5 g, €6.50; Océapieds Nourihsing Foot Cream, 50 mL, €9; Océapieds Tired Foott Relaxing Bath, 100 mL, €9; Océamains Repair Balm for Dry & Damaged Hands, 50 mL, €10 - the three latter items will be repackaged in January 2014).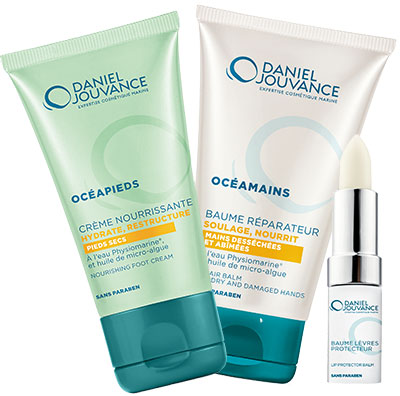 According to Hughes Noël, the Daniel Jouvance Research and Development Manager, "all algae produce lipids, though there is less in large algae than in micro-algae, which may contain up to 70%. Already considered as the biofuel for the future, oils from micro-algae are especially beneficial to dry and sensitive skin, thanks to their nutritional and anti-irritant properties. Better to use them in water-free formulae that decrease the spontaneous oxidation of omega-3. Further, they need perfumes to mask their natural fish fragrance."
In fact, their anti-aging and regenerative properties are the most interesting for cosmetics brands, this autumn. They are an ideal ingredient in the oily serum (THE texture which is all the rage, currently). They are present in Biotherm (Night Blue Therapy Serum-In-Oil, 30 mL, €65) and Algenist (Intensive Anti-aging Repairing Oil, 30 mL, €69, in Sephora).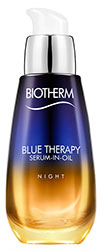 For the first time used in cosmetics (it is already used in nutrition), an oil from the Ulkenia micro-algae ( Ulkenia amoidoidea , from the name of the German researcher who founded it in North Sea, in 1965: Anne-Marie Ulken) is in Biotherm products. It contains more than 40% of DHA ( Docosahexaeonic acid ), when fish oils, generally, have 12%.
This DHA (which must not be confused with the self-tanning ingredient, DHA, i.e. Dihydroxyacetone!) does not exist in vegetable oils. This long-chain omega-3, with 22 carbon atoms (a C22 chemical), a characteristic of aquatic organisms (contrary to terrestrial plants, which contain only alpha-linolenic acid, a C18 chemical), is a major structural component of the cells' membranes and is an important factor of their fluidity, their suppleness and their permeability. Further, it helps transport some molecules.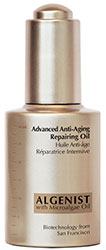 Ulkenia oil is a factor in favor of a better communication between cells and inside cells. It is known that, when cells have a good information network, the entire functioning of the skin is improved. It enhances the skin barrier function, boosts its repair mechanisms, and increases the synthesis of the epidermal lipids, with a somewhat "lipo-filler"-like effect. According to Biotherm, its lipid formula is so close to the skin's that it is easily recognized by the cutaneous cells, and is able to merge with the cells' membranes. Further, this oil is produced through a controlled fermentation process, which is environment-friendly as it is manufactured from renewable resources.
Algenist, an American brand dedicated to the power of algae produced by bio-technologies, has plans for the micro-algae oil use, and makes it its base of its Anti-Aging Repairing Intensive Oil, suitable to any kind of skin, even oily and sensitive. High in oleic acid, phytosterols, tocotrienols and tocopherols, it hydrates, nourishes and firms skin. Clinical results show "a 42% increase in terms of cell's repair and regeneration, as well as a 31% decrease of damages to DNA."
Thanks to the exponential growth of face-care oil-serum textures (from Guerlain to L'Oreal Paris, including Diadermine), micro-algae oils are there for a long time!
© CosmeticOBS-L'Observatoire des Cosmétiques
© 2013- 2020 CosmeticOBS