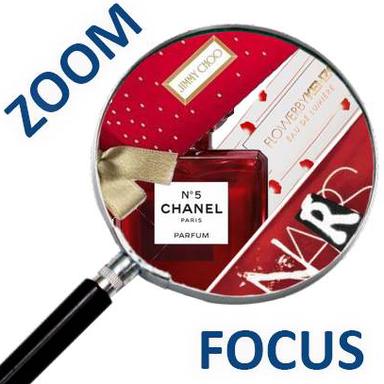 Perfumes, lipsticks, boxes, crackers and Advent calendars… are displayed in ruby or poppy boxes. Just like the Christmas illuminations that have been adorning our streets with a scarlet coat since the end of November… Red is definitely the star colour of the end of the year celebrations in the cosmetic offer!
Attention, red alert!
This year, Christmas will be red or will not be…
Thus, Chanel celebrates colour at will (and in limited edition), in its perfumes (N°5 L'Eau de Parfum, 100 ml, €150; N°5 L'Eau, Eau de toilette 100 ml, 150 €; Extract N°5 in red Baccarat crystal, 900 ml, €28,000, limited edition of eight pieces numbered in France), as well as in its lipsticks (Rouge Allure Velvet N°5, €37, an exclusive creation which, for the occasion, is dressed in incarnate lacquer) and in its gift boxes (the site has created a Red List for its "Christmas lists").
Dior dedicates a whole collection of lipsticks in bright vermilion packaging (Rouge Dior Ultra-Rouge, €36).
Eye makeup, too, turns red! Nars declines his mascara (Climax Volume, €25) as well as his eye shadows (Single Eyeshadow Ichta, €21) in an incandescent poppy.
The same goes for Givenchy in its "Mystic Glow" Christmas Collection (Black Prohibited Mascara Effect Lash Extension 2 Dark Red €34; Liner Vinyl Red Night, €33; Dual Liner Eyeliner & Eye Shadow N°01 Mystic Red, €33,50, limited editions).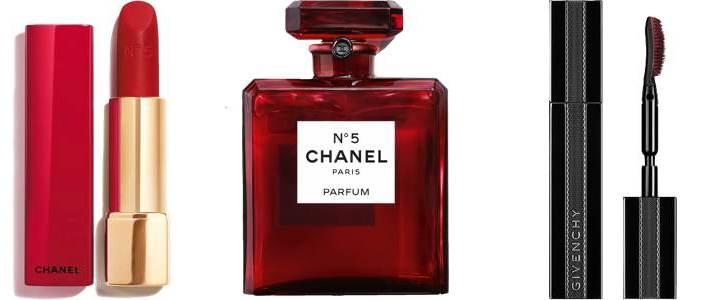 Crackers and boxes see red!
Facial and body care, make-up or varnish… the crackers trend is taking hold and is not escaping the red, like that of:
• Polaar, La Véritable Crème de Laponie, face and sensitive areas cream 25 ml, hand cream 25 ml, lip balm 10 ml, €15
• OPI, set of four mini-varnishes, two red and one gold + one base, €20
• Nars, Cracker Little Fetishes containing one mini Orgasm mini-blush 3.5 g + one mini Power Matte Lip in Starwoman 2 ml, €20
• Erborian, 1, 2, 3… Perfect Skin Cracker containing one CC Golden Cream 15 ml, one BB Nude Cream 5 ml and one Glow Cream ml5, €20
• Clarins, containing one miniature 5 ml Instant Radiance Lip Enhancer 01, one Minute Smooth Filling Base 4 ml, one Super Moisturizing Body Balm 30 ml, one Beauty Flash Balm 15 ml, one miniature 2.8 ml Instant Radiance Comfort Lip Oil 01, one SOS Comfort Nourishing Balm Mask 15 ml, all for €42
• Origins, Energizing GinZing Routine containing one Peel-Off Mask 15 ml, one Refreshing Eye Cream 5 ml, 1 Energizing Moisturizing Gel 15 ml, one Tinted Energizing Moisturizing Cream SPF 40 15 ml, €30
• Flower by Kenzo, Eau de toilette 15 ml + body lotion 50 ml, €21
• Jimmy Choo, containing one Illicit Eau de parfum 7.5 ml spray, one miniature Jimmy Choo Signature Eau de parfum 4,5 ml and one pompom key ring, €21

As for the Advent kits and calendars (a real deluge this winter!), the prize goes to Kiehl's who offers a Frank Red Advent Calendar (€75) containing three sales-sized treatments (Moisturizing and soothing mask with calendula, 28 ml, Night Regenerating Concentrate 15 ml, Moisturizing Eye Contour with Avocado, 14 ml) and twenty miniature size treatments + one voucher of €10 (available in stores or by phone).
Or the "La nuit porte conseil" box set (€40), containing Ultra-Facial Cream 28 ml, Midnight Recovery Concentrate 15 ml, Ultra Facial Cleanser 30 ml and Calendula Herbal Extract Toner, 40 ml.
Ariane Le Febvre
© 2018- 2020 CosmeticOBS