Less abrasive (in fact, less 'degreasing'), sulfate-free surfactants make a bit less foam, but they are gentler for the skin and better preserve the hydrolipidic film.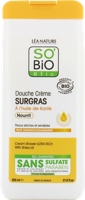 One of the first to have marketed them in supermarkets is the Léa Nature group, with So'Bio étic (Cream Shower Ultra-Rich with shea oil, 650 ml, €7.30) and Natessance (Shower Cream with donkey's milk and camomile, 500 ml, €7.60).


The surfactants selected are obtained with plant-derived, renewable raw materials like coconut oil and sugar, and they create a fine, creamy foam. In addition, they are good for the planet, because they are more than 98% biodegradable.
Other very 'natural' brands have developed sulfate-free shower gels and creams for supermarkets: Briochin (L'Authentique Fleur de Savon Shower Oil or Shower Milk with oats and rose, 400 ml, €5.50 each), or Naturé Moi (Laboratoires Biopha). The latest references released include their Cocooning Shower Gel with organic honey from the region of Limousin (750 ml, €6.50).

Here is a last one that is organic-, vegan-, and cruelty-free-certified (approved by PETA, the People for the Ethical Treatment of Animals): Energie Fruit (Moisturizing Shower Creams, 300 ml, €4.75, four fragrances: Rhubarb and Almond, Cotton Flower, Grapefruit Flower, and White Tea).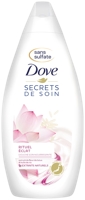 Giant Dove has even reformulated all their sulfate-free body wash products (the latest is the Nourishing Secrets range: Restoring, Glowing, or Relaxing Ritual, 400 ml, €3.60-3.99). The brand shows its commitment by writing the following message on every bottle: 'leaves skin feeling softer from the very first wash'.
This major new launch is most likely to be contagious!
Ariane Le Febvre
© CosmeticOBS-L'Observatoire des Cosmétiques