Eyelash care treatments are expensive in Selective, from 70 to 90 euros on average, but it must be recognized that effectiveness is often present (provided it is associated with assiduity!)
The results start to be seen from an average of 30 days, as with the two experts in the field: Revitalash and Talika.
The first has "popularized" the "eyeliner" applicator, a fine brush that allows the product to be applied properly to the root of the lashes (Revitalash Advanced Revitalizing Eyelash Care, 2 ml, €70 for three months of use). This conditioning has since created emulators (see Lashfood, Plume…).
The second has just launched an original product: the first double serum (day and night) from the chronobiology of the eyelash: Platinium Lipocils (2 X 8.5 ml, €99).
The idea is ingenious, especially for women who don't have time to make up their eyelashes but still want a beautiful fringe of eyelashes, more generous, well pigmented and curved. This treatment acts not only on the growth of the lashes, but also on their curvature and colour, thanks to an extract of Coleus forskohlii which stimulates melanin synthesis and intensifies the natural pigmentation of the lashes.
It contains a high percentage of the "homemade" plant complex that has been stimulating lash growth for 70 years.
This combination of plants (witch hazel, apple, nettle, horse chestnut, St. John's wort, red clover flower…) is combined with peptides, adenosine (which provides energy to the cells of the hair bulb) and curling silk proteins which also serve as a make-up base for easier application of mascara (as to be used morning and evening, the day formula is compatible with make-up).
By taking into account the natural biological rhythms of lashes, Talika Research has succeeded in maximizing their growth potential.
Thus, not only is the growth phase of the lashes boosted, to increase their length and thickness, but its inactivity phase is stimulated to maximize the apparent number of lashes.
The entire life cycle of the lash is therefore optimized. To celebrate its 70th anniversary, the brand also offers a Collector's version (decorated with a small Eiffel Tower) of its Expert Lipocils, always formulated with 96% natural ingredients (10 ml ,€41.90).
After 30 days of treatment, the eyelashes gain on average 2.1 mm in length, their pigmentation is naturally darker and their curvature increased.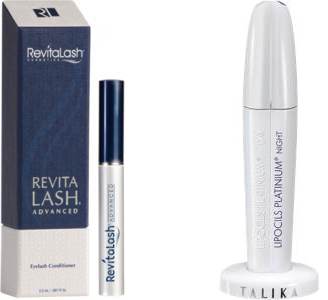 Other less new but more affordable safe values: Ecrinal from Asepta Laboratories (Fortifying Eyebrows and Lashes, 9 ml, €9.90) and Mavala (Double Lashes, 10 ml, €18).
Green formulas are on the rise
After having long proposed Revitalash, L'Atelier du Sourcil creates its own product: Ricigel® Organic Eyelash Care (€24), a formula with 92% certified organic ingredients that gives a "wet eyelash effect".
This serum with its gel oil texture fortifies, moisturizes and nourishes the lashes with a high level of castor oil, rice bran oil, acai oil and passion fruit omega 6.
Its mascara brush makes it easy to apply and distributes the texture perfectly from the base of the lashes to their tip.
The Intensifying Eyelash and Eyebrow Serum (€109) is 100% natural and equipped with an eyeliner applicator.
Just like Lashfood's Phyto-Medic Eyelash Extender Serum (3 ml, €89, at Sephora), rich in plant extracts (fortifying herbs, ginseng, purslane…), arginine, adenosine, soy proteins…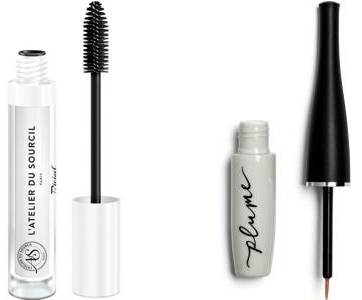 They're coming to supermarkets!
After Maybelline New-York which has just released Cils Sensational Serum for Lashes (5.3 ml, €11.90), whose originality is to be able to be applied before the application of mascara (this is rarely the case because of the often very greasy formulas), it will be the turn of L'Oréal Paris to launch in January Clinically Proven Lash Serum (2 ml, €15.90), composed of castor oil, vitamin B5, amino acids, hyaluronic acid, madecassoside?
This serum improves the condition of the lashes in eight weeks. Not only are the lashes more resistant to make-up removal, but the fringe of the lashes is visibly thickened.