They are both foundation and concealer. Bourjois invented this name "foundcealer" (contraction of foundation - foundation and concealer) which sums up the situation well! These 2 in 1 products, initiated by perfumery, combine coverage and lightness and are increasingly present in supermarkets. They allow an application on the whole face as well as a targeted application
Many women have developed the habit of applying small touches of concealer (especially those that are fluid and have a foam tip) and stretching them on their imperfections, without going back through the foundation afterwards. But these concealers often have slightly thicker textures than foundations, so it's a good idea to imagine these 2-in-1 anti-circles foundations.
Really practical, their malleable textures, between coverage and lightness, have been particularly studied.
What about colour? Actually, it's the same one. It seems that the days when you were advised to choose your concealer in a lighter tone are over!
Another important point: their "magic" applicators allow them to be applied in a targeted way (on dark circles, in this case the tip of the applicator will be used) as much as on the whole face (here we will use the wide and flat sides or the back of the applicator).
This is the case of Clinique, one of the first of its kind in perfumeries (Beyond Perfecting™ Foundation + 2-in-1 Anticerns, €36.50).
In supermarkets, Revlon was the first to introduce its 2-in-1 compact foundation Colorstay™ (€12.90), a compact foundation with a coordinated concealer that is no longer sold in supermarkets (the brand has replaced it with ColorStay or PhotoReady Anticerns, €8, which hide all the imperfections of the complexion), but which is still found on Amazon.
We can also mention among the precursors, still in supermarkets, Instant Anti-ageing Eraser Corrector from Maybelline New York with its cushion tip (€11.20).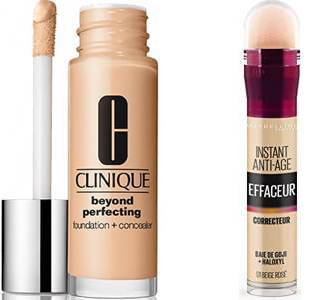 In selective corners
Among the latest innovations, that of Tom Ford (Waterproof Anticolour Foundation, 30 ml, €76), 1944 Paris (Le Halo, Multifunctional Stick Foundation SPF 50, €28, with on one side a stick, on the other side a brush to avoid getting your fingers dirty), and especially that of Too Faced (Born This Way Multi-Use Sculpting Concealer, 15 ml, €29), with a diamond-shaped applicator, really ingenious.
In supermarkets
Honour to Bourjois, inventor of the term "foundcealer" with his Stick Foundcealer Always Fabulous (€15.99, from March).
Both foundation and concealer, it perfectly evens out the complexion, while effectively correcting dark circles.
Here again, on one side a foundation stick, on the other a cushion tip.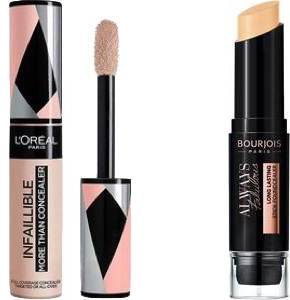 L'Oréal Paris has just released Infaillible 24H More Than A Concealer, 2 in 1 Corrector and Foundation (€11.90), equipped with an XXL applicator. Its modular formula offers a natural result, without marking dark circles. It covers imperfections (redness, scars…), while unifying the complexion. The melting texture glides on the skin and blends with it. Maxi corrector or mini foundation? Both of course, but it's up to you to decide…
Ariane Le Febvre
© 2019- 2020 CosmeticOBS