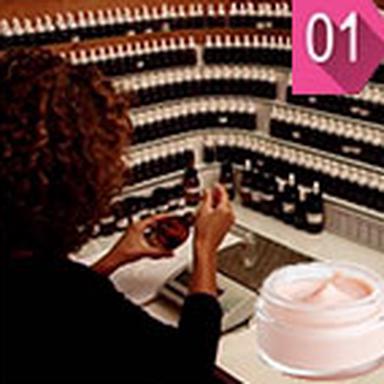 Determining in the act of purchase (and even more of re-purchase), the perfume of a cream, a shower gel, an oil… builds loyalty like no one else! Who are these"men of the shadows" who perfume our cosmetics? Immersed in an unknown profession… and in the secrets of brands that particularly care for their olfactory identity.
In perfumery, we distinguish several professions: Fine Perfumery (or alcoholic), Cosmetics and Toiletries (creation of fragrances for care and toiletries: shower gels, soaps, shampoos, deodorants…), Home Perfumery, Detergents (detergents) and food flavors (everything that is developed in the food industry). Every perfumer, whatever specialization he chooses at the end learns these different trades during his apprenticeship. For people in the profession, there are actually two really different careers: perfumer or aromatician (food flavours). But the university career remains the same: after a degree (BAC + 3), future perfumers join a school like ISIPCA (Institut Supérieur International du Parfum, de la Cosmétique et de l'Aromatique Alimentaire) in Versailles, become assistant perfumers (under the supervision of a senior), then senior perfumers (junior, then senior). They can also envisage a very complete training (it can last from 7 to 8 years!) proposed by the big groups of the industry of perfumery and flavours (Givaudan, Robertet, Mane, Symrise, IFF, Firmenich, Scented Expressions…) which have their own schools.
A less well-regarded profession?
Technology and creativity are as important in fine perfumery as cosmetics. In both cases, perfumes are created. As Jean Guichard points out director of Givaudan's fragrance school in Argenteuil," the perfumer is always an artist and a scientist (editor's note: mainly chemist)". However, the noses of fine perfumery, the elite of the genre, do not always like to say that they also create perfumes for cosmetics, especially when it is a question of products distributed in large and medium surfaces where the choice, notably in beauty hygiene, is however essentially made on this criterion… A shower gel is first chosen for its perfume. We can mention the Douceurs d'Enfance range from Dop, whose latest Cream Shower with the scent of tarte tatin (250 ml, 2.10 €) has just been released. The perfume penetrates into the heart of homes and represents millions of sales… Hand creams and nourishing lip balms are going through the same process. The"plus" pleasure is extremely popular for products whose bases remain essentially the same (cf. the new Les Délices de Nocibé Hand Creams, 4 flavours: Macaroon Raspberry, Marshmallow, Love Apple, Chocolate, 50 ml, 4.95 €).
For Philippe Collet, perfumer at Expressions Parfumées," the shower gel represents a real territory of expressiveness for a perfumer, which is less the case of the care, more coded. In a facial treatment, the consumer expects above all that the perfume confirms the benefits of the product. A successful fragrance reinforces the skincare demands. This is played out at very subtle levels (editor's note: the result"jumps less in the nose" than for an alcoholic perfume) . This is why this rather classic field is not likely to be innovative. It is also governed by security. As for the consideration of this profession, it depends a lot on the personal ego and motivations of the perfumer. Does he do this job out of passion or out of a need for recognition? That's the question! Technically and"perfumetically" speaking, the cosmetics perfumer has many bonuses and exciting bets to take up! Our profession is little known and little exposed, unlike the nose of fine perfumery, which is experiencing a real starification, driven by marketing which requires them to be good communicators". .
The double"cap"
In reality, most perfumers (apart from the stars of the profession) work in both categories. This is the case of Sidonie Lanceseur, perfumer at Robertet (specialist in natural raw materials). She created the perfume for Clarins Multi Regenerating Day Cream (50 ml, €78.50), one of the brand's best-sellers, unanimously appreciated for its delicate fresh floral fragrance, with a very slightly fruity facet bringing a reassuring,"care" side. "It is enriching to formulate for different media, one can be a source of inspiration for the other. Perfuming a treatment requires as much creativity as creating a"real perfume". It is another way of evaluating than on an alcoholic support. Perfume develops differently if it is in a cream or shower gel than in alcohol, she said. A nose that creates alcoholic perfumes calls more on his imagination and his olfactory memory. One suspects that to perfume cosmetics, one needs a fine and subtle nose, but especially a perfect knowledge of the olfactory universe of the brand. For the perfumer, a patient will begin to immerse herself in the scented atmosphere of her client's ranges.
Soak up the brand's olfactory identity
"Listening to the customer is essential. The olfactory spirit of the brand must be impregnated, its olfactory identity perfectly defined. There must be an osmosis between the two parts", says Philippe Collet. For Jean Guichard," the success of a cosmetic fragrance depends on intimacy with the brand, the perfect dosage of fragrance, good masking (covering the smell of cosmetic ingredients) and harmony without false notes between the base and the fragrance. We have 2,000 ingredients to perfume skin care or toiletries. Some are essential, are part of the identity of the product itself. Marseille soap must smell like citronella. If not, consumers don't buy it." . Givaudan, which formulates a lot for Le Petit Marseillais, a brand widely acclaimed for the quality of its fragrances, has just developed a hypoallergenic fragrance, specially designed for the sensitive skin of young and old, a family segment that is almost dermatological and rare in supermarkets (Shower Cream Surgras Hypoallergenic Sap d'Aloe Vera & Aloe Vera); Almond butter or Shower Gel Surgras Aloe Vera Sap & Orange Blossom Water, 650 ml, 5.15 to 5.75 €; Hypoallergenic Aloe Vera Sap Surgras Balm & Almond Butter, 250 ml, 4.80 to 5.25 €). Fresh and close to the naturalness of the ingredients, this"figurative" perfume, floral (orange blossom) or gourmand (almond), dosed at 0.5%, does not sting the eyes. Perfect alliance of safety and pleasure, it allows hypersensitive skins not to be frustrated by the absence of perfume.
Numerous technical constraints
The cream perfumer must take into account market trends, consumer preferences, sensory analyses, cosmetic product ingredients (this knowledge is not given in perfumers' schools but is acquired over the course of projects), their pH, whether it rinses off or not ( leave on or rinse off) … Perfumes must of course adapt to the different textures and functions of products (creams, oils, shower gels, deodorants…) and be specifically formulated for the latter. Basic coverage, stability over time, compatibility of the excipients with the fragrances, strength and persistence of the fragrance… are rigorously tested, to guarantee an optimal olfactory rendering for each product. The golden rule for perfuming a treatment well is, according to Sidonie Lanceseur,"…". to make sure that the fragrance is consistent with the product concept. For Clarins skin care products, for example, fragrance is qualitative and synonymous with pleasure, especially not technical, it must create a close relationship with the consumer. It is also important at the time of development to regularly test the perfume in situation (on skin for the cream and under water for the product to rinse) in order to evaluate the rendering olfactory and adjust. Some basics are easier to cover than others. For example, oils"eat" fresh notes and enhance oriental notes and white flowers". .
Face or body, varying concentrations
The concentration of perfume in a cosmetic varies. between 0,2 % to 0,5 % for a facial treatment and between 0,5 % to 2 % for a body treatment or a rinsing treatment", she continues. " The release of the fragrance is very different depending on whether you rinse or not. If left on the skin, especially the face (editor's note: closer to the nose, the olfactory perception is more acute), or if it's a shower gel." continues Jean Guichard. " Emulsions retain certain notes and do not promote the diffusion of the perfume. The same goes for oils, which are booming and are heavy materials. In this case, the top notes are"overplayed" so that the consumer still has a pleasant first olfactory contact with the product. Body butters are also very dense and thick structures which retain the perfume, it is more difficult to perfume them. To compensate for this absorption, the perfumer must use more powerful notes (cocoa, honey, vanilla, oriental notes…), and especially no floral notes, too subtle, not enough covering. Body care is essentially more fragrant than a facial treatment (ndlr : the surface is also more important !). It's a goldsmith's job! We face ever greater challenges, knowing that the first is always the price. Good flavors are expensive, especially in natural. Many adjustments are necessary, as well as several months of development (up to six months for the most complex projects), with many round trips between the perfumer and the brand, assures Philippe Collet.
The Observatory of Cosmetics
© 2015- 2020 CosmeticOBS
---
Associated elements(1)