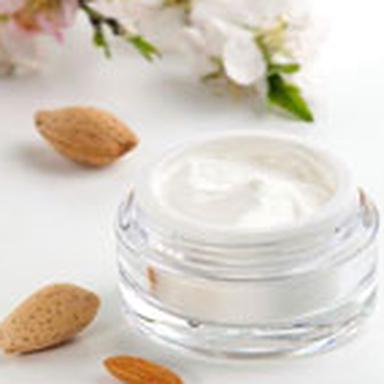 L'amande et ses dérivés sont utilisés depuis la nuit des temps dans les rituels de soins et de beauté. Et nul doute qu'ils le seront encore longtemps… C'est surtout l'amande douce (Prunus amygdalus dulcis) qui est très utilisée, même si l'amande amère (Prunus amygdalus amara) trouve aussi quelques applications cosmétiques.
A is for Almond Tree, B is for Bees

Almonds are the fruit of the almond tree, a meridional tree in the Rosaceae family that is widely cultivated in France's Mediterranean region along with apricot and olive trees. There are dozens of almond tree varieties: Ai and Princesse are well known in France, while other varieties are cultivated exclusively in California, the world's largest almond-producing region. The almond tree is self-sterile, meaning that its flowers cannot be fertilised by their own pollen. The tree must be planted near a second tree of another variety in order to bear fruit, and bees must be present to carry pollen from one tree to the next.
A is for Advantageous
The almond tree is very generous with cosmetics formulators. It offers its fruit, from which the famous oil is extracted, but also almond milk or butter, hydrosols, proteins, and unsaponifiables. Its bark and shells, reduced to powder, also have a place in our beauty products, as do its flowers, in the form of an extract. In short, as is often the case with ingredients of botanical origin, everything (or almost everything) in the almond tree can be put to use!
A is for Abrasive, S is for Softening

Its multiple resources have a number of various functions and services, both for the skin and for the hair.
• Almond shells (Prunus Amygdalus Dulcis Shell Powder), ground to a fine powder, are used in many scrubs and exfoliators; the small grains eliminate dead skin cells to refine the skin and lighten the complexion.
• Flower extracts (Prunus Amygdalus Dulcis Flower Extract) act as humectants, retaining water at the surface of the epidermis to slow dehydration and preserve suppleness.
• Almond proteins (Prunus Amygdalus Dulcis Protein) are actives that firm and smooth the skin, coat the hair fibre, and make the hair shiny.
• Almond milk made from an extract of the fruit (Prunus Amygdalus Dulcis Fruit Extract) or seed (Prunus Amygdalus Dulcis Seed Extract) softens the skin, while almond butter nourishes and hydrates it.
• Sweet almond oil (Prunus Amygdalus Dulcis Oil) is still the star raw material obtained from the almond tree. Extracted by pressing the almonds, and after toxic substances are eliminated, it has remarkable emollient properties, which means that it softens the skin and makes it more supple. It limits water loss and contributes to proper hydration; it is very gentle and is tolerated perfectly by the epidermis.
B is for Babies

Sweet almond oil can be included in moisturising and/or anti-ageing creams, in shower gels, in hair treatment serums, cleansing milks, hand creams, body lotions, massage oils, and more.
But it is primarily present in products designed for babies and small children. In these products, it is just as gentle and hydrating and it comforts the skin after bath time.
Used by itself, it is particularly good as a massage oil. It is especially useful in treating cradle cap, for which its effectiveness is recognised.
Cradles craps
Caution: cradle cap scabs should never be removed by vigorous brushing or by scratching them off with your fingernails! Doing that will only result in severe irritations of the baby's scalp.
The key is to let the scabs run their course by encouraging their natural elimination, and the secret to this is to apply an oil to the scalp to soften them until they fall off by themselves. A few cosmetics companies sell products specifically for this, and almond oil is also known to be useful. Just apply after bathing (or in the evening): lightly massage baby's head and let it sit overnight. In the morning (or at the next bath), cleanse baby's head as usual but avoid rubbing. In a few days, the problem is solved!
A is for Allergy?

Despite its generations-old reputation, sweet almond oil is being accused more and more often of having allergising potential. No one can deny that almonds, like walnuts, hazelnuts, and pistachios, belong to the nut family, which are emerging food allergens. It is also true that food allergies can be 'awoken' by the cutaneous application of an allergen. What? Even for sweet almond oil, with its reputation for tolerance and benefits for the skin? Well, yes, at least in theory. Because in practice, even if a few cases have been reported, adverse reactions upon contact with sweet almond oil are extremely rare.
C is for Caution

This is of course true for all cosmetics: just because a product claims to be 'made with sweet almond oil', this does not mean that: 1/ it contains very much, 2/ it can claim to benefit from all the qualities of a single ingredient, since this also largely depends on the rest of the formula. If the sweet almond oil is mixed with another oil derived from petrochemicals, if the cream is preserved using highly irritating substances, or if it is the only natural ingredient in the formula… its value is of course much lower.
What about 'pure' oil? Again, be careful. There are varying degrees of 'purity'. The market is rife with products that are presented simply as 'Sweet Almond Oil' but that also contain fragrances or even preservatives, which again takes a lot away from their value. It is important to realise that sweet almond oil does not need a fragrance (which will almost always be a source of allergens) in order to be a pleasure to use. And it does not require preservatives either to remain stable over time. Only an antioxidant (even though it contains antioxidants naturally) is acceptable, such as tocopherol (the official name for vitamin E), especially if it is of natural origin.
© CosmeticOBS-L'Observatoire des Cosmétiques
© 2014- 2021 CosmeticOBS