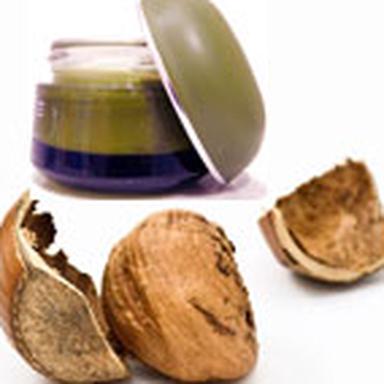 The hazelnut is a choice active for our personal hygiene and beauty products. Its leaves or flowers are used in the form of extracts. Its fruit is reduced to powder, and acts as an exfoliating agent in scrubs… but it is actually when it is transformed into oil that it is of the most interest to us. And though rather discreet on labels, hazelnut oil is widely used in our cosmetic products.
A small ball of actives

Our body is not the only one to take advantage of this nugget stuffed with resources. Indeed, its nourishing fatty acids, its antioxidant vitamin E, tannins and flavonoids, its phytosterols, which rejuvenate the epidermis, and its minerals and B vitamins are also very good for the skin, which proves pretty eager to use them for its own beauty.
In addition, all its compounds, which can be found almost in the pure state in hazelnut oil, confer many an interesting properties and cosmetic applications on it.
A key ingredient for oily and combination skins

Vegetable oils are not much advisable for oily skins. They are thick on the skin, often film-forming, and therefore potentially comedogenic (i.e. they favour the formation of pimples and blackheads): they do not really suit an epidermis that is already suffocating with an excess of sebum.
Hazelnut oil is the notable exception that proves the rule: with its very fine texture, this fluid oil very quickly penetrates the skin with no oily feel.
And as it is known for regulating the production of sebum, and for being slightly astringent – it tightens the skin's pores – it can be used as the first active in regulating and mattifying creams or purifying masks for oily to combination skins.
It also plays a role in many "all skin types" makeup removers, where these properties add up to its role of base in the oily phase (the phase that dissolves impurities and cleanses the epidermis).
A good nutrient for dry and sensitive skins

Just like all vegetable oils, this time, the fact that hazelnut oil is rich in fatty acids makes it a particularly emollient, soothing and softening active for the skin, which tolerates it perfectly well – even the most sensitive epidermises. It contributes to hydration, the first guarantee for skin balance.
Its phytosterols add to it a rejuvenating property for cutaneous tissues, which makes it one of the most precious oils for suffering or damaged skins.
And for this very reason, it constitutes a recurring active in anti-stretch mark skincare.
A touch of lightness in body oils and serums

A fine texture, no oily skin feel… these unusual characteristics for a vegetable oil are also often used in moisturizing body oils, on which they confer a "dry skin feel" that is very popular among consumers.
In addition, it provides very good support for essential oils, as it favours their penetration deep into the epidermis, and is naturally present in the composition of numerous facial serums.
A small nut of caution

As a food allergen, the hazelnut can also "wake up" the immune system by sending it the allergy-related sensitizing signal, even when applying its oil on the skin. Therefore it cannot be ruled out that a cosmetic product containing hazelnut oil might provoke undesirable reactions, when the skin is susceptible to allergies.
This is true for all nuts, even the sweet almond oil that provides so many benefits. And even if they only play a small role in cosmetics.
Lastly, to finish on a lighter note, the greedy ones amongst you should refrain from using it pure! Its irresistible smell of grilled nut might make you long for a good spoonful of your childhood spread! If you want to keep fit, keep it to nourishing your skin…
All the cosmetic actives in the hazel tree

The hazelnut, sometimes called filbert, is the fruit from the common hazel tree of the Corylus avellana category. It produces several ingredients:
• Corylus avellana bud extract : Hazelnut extract
• Corylus avellana flower extract : Hazel tree flower extract
• Corylus avellana leaf extract : Hazel tree leaf extract
• Corylus avellana seed oil : Hazelnut oil
• Corylus avellana seed powder : Hazelnut powder
• Hydrogenated hazelnut oil : Hydrogenated hazelnut oil
• Hydrogenated hazelnut protein : Hydrogenated hazelnut protein
© CosmeticOBS-L'Observatoire des Cosmétiques

© 2014- 2021 CosmeticOBS