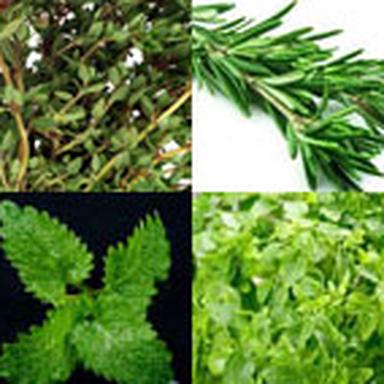 Do not think mincing them above your cream jars to bring out their flavours will make you look more beautiful. However, your skin can actually get to taste herbs, as they offer many active substances and other precious extracts. Focus on an aromatic quartet with a cosmetic score.
Contrary to spices, which often come from faraway lands, herbs present the advantage to be easily and locally cultivated. Their cosmetic actives are mainly obtained from their leaves in the form of extracts, but also of hydrolates and essential oils. And although they are tiny, in addition to their aromatic principles, these small leaves provide numerous interesting compounds which add to the range of perfumes available.
Basil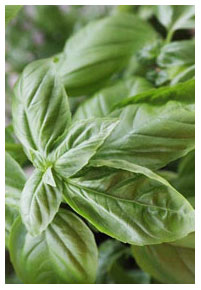 It is the commonly known basil, or soft basil, that is usually used in cosmetic preparations for its concentration in vitamins, minerals, and antioxidants.
• Its hydrolate is not much used, although it is an efficient toner that enhances radiance and revitalizes dull complexions, while fortifying the scalp. It is also antioxidant and leaves a pleasant, sweet and strong smell.
• Its essential oil is more common. It is also perfuming and toning, and is endowed with soothing properties for the epidermis. It is often part of the plant complexes designed for brightening the complexion.
However, it is very powerful and not recommended for pregnant and breastfeeding women, babies, and young children: it contains allergenic aromatic molecules (linalool, citronellol, eugenol, geraniol).
Mint

There are approximately thirty species of mint all around the world, which diffuse more or less delicate scents and exhibit more or less strong properties. Peppermint is the favourite one in cosmetics for its richness in menthol.
• Its hydrolate is very refreshing and toning, but also purifying and astringent. Therefore, it constitutes a good base in skincare formulas for young or acne-prone skins, as a substitute for water, which makes up a very large part of most cosmetic products (at least in terms of percentage).
• Its essential oil is highly perfuming and refreshing, toning, and also astringent and purifying. It can often be found in the composition of menthol-tasting toothpaste, deodorants, and skincare for heavy legs and tired feet or combination and oily skins.
As for contraindications, its limonene and linalool give it an allergenic potential, and its menthol can have a convulsivant effect on babies. Its use is also not recommended for pregnant and breastfeeding women.
Rosemary

It covers up with delicate, pale blue flowers in the cold season, but again it is the medicinal rosemary leaves that are used for cosmetic applications, thanks to their rich composition in numerous antioxidants (flavonoids).
• Its hydrolate can be used on its own as a skincare lotion: it is astringent, purifying, antioxidant, and toning, and thus suits combination and oily skins perfectly well, as well as mature skins.
• Its toning and regenerating essential oil is efficient in regulating the sebaceous secretions of the scalp. It is also interesting in slimming complexes for its lipolytic properties (lipolysis refers to the processes contributing to destroying fats). In addition, it is indispensable in hammam black soap.
However, beware of its concentration in ketones (camphor in particular), which makes it potentially neurotoxic and abortive, and therefore unsuitable for pregnant women and babies, as it can provoke convulsions. Depending on the origin of the plant, it can also contain allergenic molecules in more or less high quantity, such as limonene, linalool, or geraniol.
• As for the leaf extract, it is strongly antioxidant and antiseptic, so much that it can contribute – at least partly – to replacing synthetic preservatives and antioxidants in organic cosmetics in order to protect formulas from microbiological contamination and prevent fats from going rancid.
Thyme

Although its name makes it sound vulgar, thyme is certainly endowed with differentiating properties of interest in cosmetics.
• Its hydrolate is the ally of oily skins and hair. Thanks to its antiseptic and purifying virtues, it regulates the production of sebum and purifies both the epidermis and the scalp. It can also be found in a few mouthwash formulas.
• Its essential oil is also antibacterial and toning, and it reinforces the efficacy of deodorants, cleansers, shampoos, or skincare products for oily skins. On top of this, its action on microcirculation makes it a draining active that should not be overlooked in slimming and toning products.
As it is dermocaustic, it can be irritant (which is why it must never be used pure on the skin), and its linalool and limonene, which make up part of its action and perfume, are also classified in the list of aromatic molecules requiring a declaration on cosmetics labels due to their allergenic potential.
• Its rare and expensive honey exhibits outstanding antibacterial and healing properties that can absolutely bear comparison with the less local Manuka honey!
• Its highly antioxidant extract can also complete a preservative system or act as an anti-radical ingredient to preserve the skin from free radicals, which accelerate the aging process.
© CosmeticOBS-L'Observatoire des Cosmétiques
© 2015- 2021 CosmeticOBS