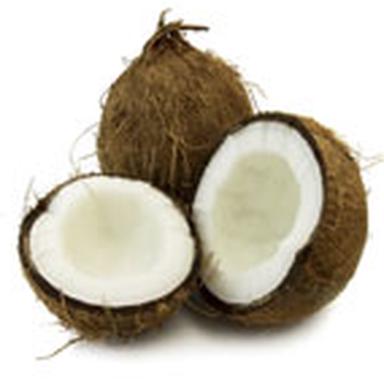 On our cosmetics packaging, coconut is a promise for sweet and mild fragrance that brings exoticism in our dreams. Less known, though similarly strong active ingredients, its derivatives are numerous in the lists of ingredients. Powdered coconut, oil, milk, water, alcohol, esters or surfactants … many are those from cocos nucifera.

Coconut, a fruit from the Tropics
A fruit of the coconut tree (Cocos nucifera), a palm tree grown in tropic areas (Asia, Africa, Caribbean, Oceania, Latin America), coconut can be eaten and drunk. High in lauric acid and in minerals, it is also a cosmetic ingredient, very interesting, thanks to its perfuming, hydrating and exfoliant properties.
As for a Russian doll, coconut unveils its charms along with its different layers. Grown from the flower, its first outside envelop is green. It becomes brown when mature, and wraps a thick and fibrous layer, called coir, which protects the seed and makes it float. Once cleared of these fibrous membranes, the shell appears, a hard, more or less spherical, heavy, dark brownish part. This is the fruit that we know well. Its inside surface is covered with a yellow seed coat, a thin, brown layer that connects the shell to the albumen or flesh, an oleaginous white kernel. When dried, it produces coprah, from which coconut oil or milk is extracted. The latest ingredient is the coco water, a sweet liquid that fills the inside hole circumscribed by the seed.

Base notes: the fragrance
Though the word Coco refers mainly to the Chanel perfume, it reminds us only of the nickname of the fashion industry's master, and provides fragrances far from the Oriental notes of the coconut. However, the sweet and mild fragrances of the coconut tree inspire perfumers who generally use them as base notes to fix their scented creations: Love Coco , by Honoré des Prés, Bronze Goddess , by Estée Lauder, Taj Sunset , by Escada, Coco Extrême, Coco Figue and Vanille Coco , by Comptoir Sud Pacifique, as well as the eau de toilette Noix de coco de Malaisie and the Noix de Coco-Ananas limited edition, by Yves Rocher, just to name some.
Even if its smell is nowadays less praised, and often replaced by more trendy sweet notes (soft fruit, such as blackberry or pomegranate), coconut, as well as its exotic twin, vanilla, or citrus fruit, is still a key value for cosmetic scents. Thus, many of our cosmetics, from shower gels to body milks, from deodorants to sunscreens smell coco! Look at the Coconut programme, by The Body Shop, Plaisirs Nature à la noix de Coco de Malaisie , by Yves Rocher, Body Spa - Coconut Dream , by Lavera, Coconut Oil Formula , by Palmer's, Piňa-Colada , by Bernard Cassière, Polynésie , by Ushuaia. Add that almost all the cleansing products lines comprise at least one coconut-scented product: Tahiti Douche, Dove, Fa, So'Bio, Natessance, Logona …

Heart notes active ingredients: powder, pulp, milk and mainly oil
Several parts of coconut are used to produce active ingredients used in cosmetics industries. From the hard shell that wraps the seed, a powder is produced by crushing. An abrasive powder, it is included in the body and face exfoliants, to refine skin texture and help the epidermis getting rid of dead cells. An emollient, it is an active ingredient of hair-care products.
The coconut pulp, high in fibers, is used for its moisturising and nourishing properties. Further, it is a mild exfoliant, which respects the skin's hydrolipidic film, and is suitable to the driest and the most sensitive epidermis.
The pulp's milk and the grated and squeezed pulp come with emollient and humectant properties. It is a good conditioner for dry, thin and malnourished hair. It is used mainly in cleansing products, from shower gels to shampoos.
Coconut water, high in nutrients and sugars, provides many emulsions with its emollient and hydrating properties. It is also a masking agent: it reduces or masks the basic smell of a composition by perfuming it.
Used in surfactants, its oil is among the coconut derivatives the most often used in cosmetics. Nourishing and protective, it helps our skins fighting dehydration. Repairing and smoothing, it regenerates malnourished skins, dry and damaged hair, heals rash of reactive epidermis and of babies' bottoms. With the same INCI name ( Cocos nucifera oil ), come coconut oil, from fresh pulp, and coprah oil, got from dried pulp.
Both oils have a very similar content of lauric acid (close to 50%), a saturated fatty acid, which enhances the foaming and cleansing properties of many formulae. Further, it shows a great affinity for skin and hair fibers. They do have the same, high, saponification index (IS); therefore, there are easily transformed to soap. They become solid at room temperature (under 25°C/77°F), and are, then, called coconut butter. However, coprah oil, less expensive, is more often used to manufacture soaps, emulsions and as a base to synthesize surface-active agents derived from coconut.
Another difference when used in formulation: coconut oil smells the well known "coconut fragrance", while coprah oil is a neutral base . For instance, the latter is usedalong with Tiaré flowers to manufacture the monoi, designation of origin from Tahiti.
Thanks to its emollient, smoothing and cleansing properties, it is also found in many of our soaps, shower gels, shampoos, balms, hair masks, after-sun milks, or oil blends for body or hair care, or for massages.

Top of the list: surfactants
Coprah oil gives birth to many derivatives: emollients that make skins supple and smooth them (glycerides, fatty acids, fatty alcohols, esters, alcanes … ) or surfactants, which help for an even spreading of a product when applied and ease foaming. They are easy to see in the lists of ingredients on our cosmetics as they come with the "coco" affix in their INCI denomination, as all the active ingredients derived from coconut.
Obviously, there are used in numerous cleansing products, creams, shaving creams, toothpastes, make-up removers, ultra-rich soap bars … to sum it up, in almost all the categories of cosmetics.
In case of allergy to coconut, it may be difficult to find a cleansing product (shower gel or shampoo), even without any fragrance, which could be completely free of any (especially due to the surfactants). In this rather unusual case, the answer may be using dry or solid shampoos and syndets, soap-free soaps.
From A to T, the most often seen INCI denominations with the "coco" affix
• Ammonium coco-sulfate : Ammonium coco-sulfate (cleansing agent, emulsifier, foaming agent, surfactant)
• Arginine cocoate : Arginine, an amino-acid from coconut (skin care agent)
• Coco-betaine: Cocobetaine (surfactant, foaming synergist, antistatic agnet, hair conditioner)
• Coco-caprylate: Coco-caprylate (emollient)
• Coco-caprylate/Caprate : coco alcohols, mix of esters of octanoic and decanoic acids (cleansing agent, emulsifier, emollient, surfactant)
• Coco-glucoside : Coco-glucoside (surfactant, foaming agent, cleansing agent)
• Cocoglycerides : Coconut glycerides (emollient, skin care agent)
• Coconut acid : Coco fatty acids (emollient, cleansing agent, emulsifier, surfactant)
• Coconut alcohol : Coco fatty alcohol (emollient, emulsifier, foaming synergist, surfactant)
• Coconut alkanes: Alcanes derived from coconut (emollient, solvent)
• Cocos nucifera fruit extract : Coconut extract (emollient, hair conditioner, skin care agent)
• Cocos nucifera fruit juice : Coconut juice (emollient, hair conditioner, humectant)
• Cocos nucifera fruit powder : Coconut powder (skin care agent)
• Cocos nucifera oil: Coconut oil (hair conditioner, masking agent, perfume)
• Cocos nucifera shell powder : Coconut powder (abrasive agent, emollient, hair conditioner)
• Cocos nucifera water : Coconut water (masking agent)
• Decyl cocoate : Decyl cocoate (decyl alcohol and coco fatty acids ester)(emollient, hydratant)
• Glyceryl cocoate: Glycérol and coconut fatty acids ester (emollient, emulsifier)
• Hydrogenated coco glycerides : Hydrogenated coconut oil glycerides (emollient, skin care agent)
• Lauryl cocoate : Lauryl cocoate (emollient, skin care agent)
• PEG-10 cocoate : PEG-10 cocoate (emulsifier)
• Potassium cocoate: Potassium cocoate (potassium salt of coconut fatty acid)(emulsifier, surfactant)
• Sodium cocoate : Sodium cocoate (sodium salt of coconut fatty acid) (emulsifier, surfactant)
• Sodium coco-sulfate : Sodium coco sulfate (surfactant, emulsifier, cleansing agent)
• Sodium cocoyl hydrolyzed wheat protein : Wheat hydrolyzed proteins and Sodium cocoyl (antistaic agent, hair conditioner, surfactant)
• Sodium cocoylamino acids: Amino-acids, derived from coconut (antistatic agent, surfactant)
• S ucrose cocoate: Sucrose cocoate (antistaic agent, emulsifier, skin care agent)
• Tea cocoate : Coconut fatty acid (emulsifier, surfactant, cleansing agent, foaming agent)
© CosmeticOBS-L'Observatoire des Cosmétiques
© 2013- 2020 CosmeticOBS