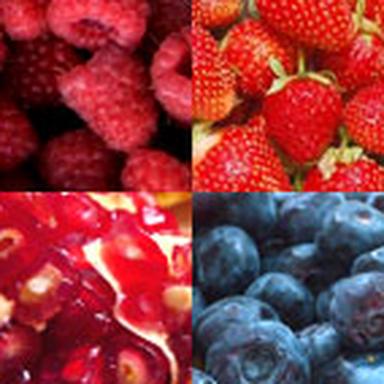 As their name implies, they are red! And it is this redness, resulting from their protective pigments, which gives them their main cosmetic properties. Indeed, in addition to provide our daily skincare products with their perfume (or fragrance), they are also as good for our skin as for our gourmet palates.
The family of red berries usually comprises red-coloured fruit (cherries, strawberries, raspberries, red currants…), to which black fruit is often added (black currants, bilberries, blackberries).
Apart from a most attractive image, red berries share a great concentration of nutrients protecting the skin. Anthocyanins – due to their red pigments – and polyphenols are strongly antioxidant, and their vitamins only add to their anti-radical properties, which also gives them an anti-dullness and anti-ageing action.
They are also rich in sugars, which are known for their skin-hydrating qualities, and many of them are astringent too. They help tighten pores for a smoothing and matifying effect.
Of course, we use their fruit, in the form of extracts, water, powder, and their grains, which can be used as scrubs, but also their leaves or seeds, from which are obtained emollient – to soften the skin and make it suppler – and nourishing oils.
As for their oils (pomegranate, raspberry…), in addition to their vitamins and antioxidants, they offer essential fatty acids our epidermises are very fond of.
Children and senior-friendly

On top of that, they smell and taste good! That's why they can often be found in children toothpaste (the classic strawberry flavour!) or their body and hair cleansing gels.
But their properties are also prized by more mature skins lacking radiance, softness and vitality. As a result, they are increasingly used in cleanser, scrub, mask and skincare cream formulas.
And since adults keep their inner child alive for quite long, the cosmetics industry also offers them their own sweetly perfumed shower gels, or no less sweet-tasting lip balms.
Red is everywhere
Nature offers a profusion of small red fruit and berries, and the cosmetics industry is not a fussy consumer: it uses them all, or almost.
They can easily be spotted, as it is rare for a formula to contain any without the sales leaflet proudly mentioning it. Then they can also be found on the list of ingredients, although they tend – as is the case for most cosmetic ingredients – to play hide-and-seek behind the name the official nomenclature has given them.
Do not redden at your difficulty to recognize them on labels: you are not the only ones, and here is some advice for you not to get lost.
• Blackcurrant: Ribes nigrum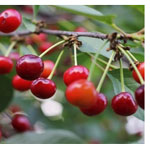 The fruit extract (Ribes nigrum fruit extract) is astringent, emollient, and perfuming.
Blackcurrant also provides its leaves (Ribes nigrum leaf extract), its emollient seed oil (Ribes nigrum seed oil), or the wax obtained from its buds (Ribes nigrum bud cera).
• Cherry: Prunus cerasus
The cherry fruit (Prunus cerasus fruit extract) is antioxidant, just like its leaf (Prunus cerasus leaf extract). Its bud (Prunus cerasus bud extract) is a wetting agent, and maintains the water content of the skin. Crushed and reduced to powder (Prunus cerasus shell powder), its kernels are abrasive and can be used as scrubs. Its flowers (Prunus cerasus flower extract) or cherry stalks (Prunus cerasus stalk extract) can also be found in cosmetics.
• Cranberry: Vaccinium macrocarpon
Cranberries are astringent and perfuming in the form of a fruit extract (Vaccinium macrocarpon fruit extract), juice (Vaccinium macrocarpon fruit juice), water (Vaccinium macrocarpon fruit water) or powder (Vaccinium macrocarpon fruit powder). They can also be found in products destined for intimate hygiene thanks to their anti-infectious properties.
• Strawberry: Fragaria vesca
Its fruit (Fragaria vesca fruit extract), juice (Fragaria vesca juice), leaf (Fragaria vesca leaf extract): everything in the strawberry plant is astringent. The oil (Fragaria vesca seed oil) and butter (Fragaria vesca seed butter) obtained from its seeds are emollient.
• Raspberry: Rubus idaeus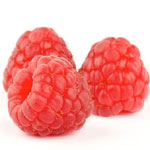 Amongst the most active red berries in cosmetics, the raspberry (Rubus idaeus fruit extract) and its juice (Rubus idaeus juice) are astringent, keratolytic (scrubs without rubbing), smoothing and toning. Its seeds (Rubus idaeus seed powder) are abrasive, and the oil obtained from them (Rubus idaeus seed oil) is emollient and antioxidant. The raspberry bush also offers its leaves (Rubus idaeus leaf extract) or wax (Rubus idaeus leaf cera).
• Pomegranate: Punica granatum
Its mostly used derivative is the oil (Punica granatum seed oil) for its emollient, anti-ageing and protective properties. But the pomegranate extract (Punica granatum extract) is also used for its astringent, masking and toning qualities. Its water (Punica granatum fruit water) is astringent, toning, and produces some fragrance, while its seed powder (Punica granatum seed powder) is abrasive.
• Bilberry: Vaccinium myrtillus
Just like other red berries, the bilberry provides its fruit (Vaccinium myrtillus fruit extract), juice (Vaccinium myrtillus juice) and water (Vaccinium myrtillus fruit water). Its leaves (Vaccinium myrtillus leaf extract) are astringent and used in skincare and hair or nail care products alike.
© CosmeticOBS-L'Observatoire des Cosmétiques
© 2014- 2021 CosmeticOBS