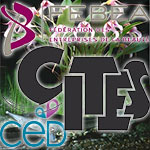 The Convention on International Trade in Endangered Species of Wild Fauna and Flora, also known as CITES convention, aims to ensure that international trade in specimens of wild animals and plants does not threaten their survival. And this also concerns the cosmetics industry, as it uses a few of them in its products.
Reading time : ~ 14 minutes
Cosmetics based on plant extracts are on a roll, and some raw materials derived from the animal kingdom are also often incorporated into their product formulas. And if the massive use of certain substances derived from the most common and most available species (like sunflower or rose, honey or milk) is not a problem, the exploitation of a few others can contribute to endangering them, or even threatening them of extinction.
The CITES Convention was set up to avoid this risk. It was adopted in March 1973 and came into force in July 1975. Today, it accords varying degrees of protection to more than 35,000 species of animals and plants, whether they are traded as live specimens, fur coats or dried herbs.
At the 17th European Dermocosmetology Days organized by the CED (European Centre of Dermocosmetology) in Lyon, France, on May 28-29, 2015, Catherine Bramaud, FEBEA's Scientific & Regulatory Advisor, provided a review of the text and its implications for the cosmetics industry.
CITES principles
The Convention text results from the cooperation of various States. To this day, 181 have adhered to it (including Europe in April 2015), which means they have accepted its restrictive legal framework.
It is regularly updated and composed of two major parts: the first defines its ...