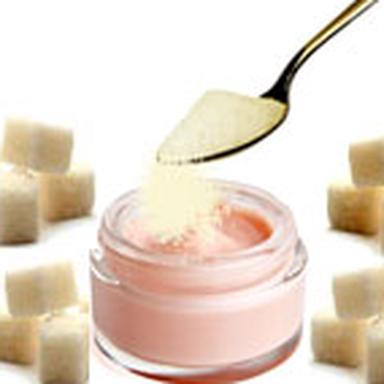 What it does inside … is very different than what it does on the outside! While sugar must be considered cautiously when ingested, the same cannot be said when applied on our skin, especially in a cosmetic product. This way, it comes only with advantages; one is asking for more: use it as much as you want!

-Oses and -ols
It is rarely listed as such on the labels of our personal-care and beauty products; however, it is a part of all (or almost all) of our cosmetics, this, since…forever. Sugar, or, in fact, sugars, indeed are listed as fructose, rhamnose, glucose, sucrose, trehalose, maltose, lactose, ribose… but also, mannitol, xylitol, sorbitol,fructo-oligosaccharides, polysaccharides …
They come from fruit, plants, such as cane, from vegetables such as beetroot, maize, and also from honey, milk or seaweed … just to quote only some sources.
Thus, they are present in our cosmetics as active ingredients extracted from sugars; nevertheless, as soon as an ingredient that contains sugars is used in a formula, further to its intrinsic properties, it supplies our skins with sugars and their benefits.

Multi-function active ingredients
Sugar and its derivatives may be used as a basis to get emulsifiers or surfactants (among the most well-tolerated by skin), unavoidable to thicken the emulsions that make milks and creams, or to give rise to the foam of cleansing gels and shampoos. They are very useful to the natural and organic cosmetic, which forbids any synthetic equivalent … but they are not necessarily despised by the "conventional" cosmetic!
Sugar grains, almost in their raw condition, are also used as gently melting exfoliating agents in scrub products.
However, the key factor of "sweetened" active ingredients is their other properties, more and more known, and more and more used in cosmetics.

Powerful moisturisers
All the sugar derivatives are classified in the moisturisers/emollients/humectants categories. What does it mean? They are recognized as able to help our skins retain their optimum hydration and water content (a key to its good health and its resistance to aggressions from the outside), while being also a soothing agent, which, further, makes them more supple.
All this along with a complete affinity with them; hence, sugars and their derivatives are among the cosmetic ingredients the most tolerated by our skins, and the least suspected to be the cause of undesirable reactions.
The cosmetic industry as a whole has well understood that, as it uses sugars as needed in its moisturising and anti-ageing products.
Sugars, good, good for …
Good for our skins, the active ingredients from sugar are neither harmful to the environment: their natural origin comes along a very good bio-degradability. Further, the plants which they are extracted from may be from organic farming.
There are also more and more fair-trade sugars, especially those from cane, this, adding an ethical level to their so mild profile.

Sweetened patents
Though sugar has been known for … millenniums, its cosmetic properties are still the topic of researches…and a reason to apply for patents. Such as the Dermatological Advanced Formulation (D.A.F.) natural complex, based on mannitol, xylitol, rhamnose and fructo-oligosaccharides, claimed by Bioderma as enhancing the tolerance threshold of the most sensitive skins. Also, Pro-Xylane, by Lancôme, based on xylose, designed to promote the synthesis of the glycosaminoglycanes (polysaccharides, another kind of sugars) present in the skin structures, and to increase its volume, density and firmness. Or the alguronic acid, by the American brand Algenist, an "extra-cellular exo-polysaccharide", from a micro-algae, with moisturising properties said to be higher than the hyaluronic acid's.
More recently, Yves Saint Laurent, with its Glycanactif TM , a combination of three glycans (polymers made of monosaccharides), has made glyco-biology come back in the headlines of the Beauty media. Phytomer, on its side, has launched its XMF active ingredient, a sugar from sea that provides "a second-skin effect."
The organic cosmetic is not left aside, thanks to the patent applied for by Melvita for its three-honey complex (acacia, orange-tree, thyme): its sugars, in synergy, have proven their ability to nourish, soften, sooth, revitalize and heal the skin, by strengthening its structure and increasing the intracellular trafficking …
All that in so a small grain! Should Cleopatra have known it, no doubt, she would have added sugar to her bath, to make of it a nice … sweetened milk: sweets that one would not suggest to drink, but in which our skin would find it pleasant and useful to go!
© CosmeticOBS-L'Observatoire des Cosmétiques
© 2012- 2021 CosmeticOBS