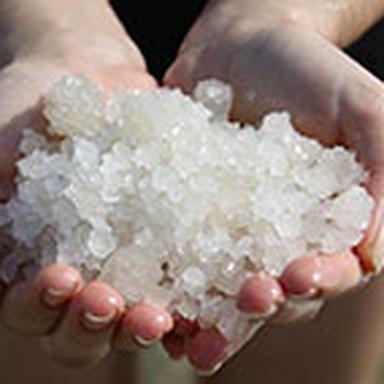 What are the differences between our good old kitchen salt and the salt used in cosmetics? A few dermatological properties and… a generous quantity of marketing arguments too! Here is a small grain of salt in salty formulas and sales leaflets…
There are two main official designations for salt in the cosmetics industry:
• Sodium Chloride, which is our table salt found in the form of a fine powder made of small grains;
• Maris Sal, which refers to sea salt, and can rather be found in the form of larger grains. It can come from any sea, and its origin should thus be mentioned in the sales leaflet.
Therefore salt in cosmetics are Sel de Guérande, or Dead Sea, Himalayan and Epsom salts, to mention but the main ones. They enable marketing departments to serve us some nice stories in addition to the properties of their ingredients.
Stories of minerals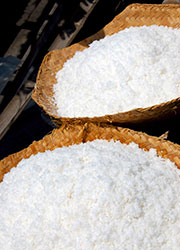 Indeed, all types of salt are not equal. And neither are their compositions. If some only provide their textures to cosmetic formulas, others contain minerals: sodium of course, but also magnesium, as in Epsom salt, and potassium, magnesium, calcium and others in Dead Sea salt, which built its own reputation as a dermatological active thanks to its exceptional concentration in various minerals.
These are definitely of interest for our skin, as they diffuse their properties in the various uses the cosmetics industry makes of salt.
A thickener in shampoos and shower gels
It is essential in cleansing gels. And it is often the simplest type of salt that can help thicken formulas and adjust their viscosity.
It is pretty hard to find a shampoo with "no salt"… unless it is specifically formulated to maintain Brazilian hair straightening, with which it is hardly compatible.
A mineralizing active in skincare creams
Minerals (sodium, potassium, calcium…) are part of the major components of the NMF (Natural Moisturizing Factor), with amino-acids, sodium PCA, urea, and a few other substances. They are all located within the cells of the stratum corneum – the most superficial layer of the epidermis – and help it retain water.
Providing minerals (via salt) cannot but reinforce this NMF, in principle, and add to the hydrating properties of our skincare products. This is quite significant, especially when one knows that moisturizing is the no. 1 quality expected in a cream.
An exfoliating agent in scrubs
Similarly to grains of sugar, grains of salt exhibit all the characteristics of a good abrasive agent when they are large. Rubbing them on the skin mechanically eliminates dead cells and impurities from the surface of the epidermis. This operation is to be carried out once a week at the maximum – the point is not to scour our skin anyway – and it enhances skin cell renewal, provides finer skin texture, and ensures better penetration of the actives contained in the skincare products applied afterwards.
Exfoliating salts are usually part of the "noblest" due to their richness in minerals. They are presented in an oily mixture to soften any roughness, and also nourish the skin in passing.
They are not really recommended on the face, which needs a bit more softness, but salt scrubs are among the easiest to make as "homemade" cosmetics.
Teeth hygiene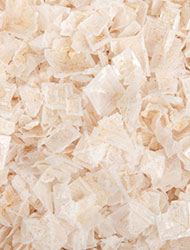 Here is another type of cosmetic products where salt is almost everywhere: toothpaste. The official nomenclature of cosmetic ingredients, which classifies it in the "oral care agents" category, only validates ancestral knowledge, inasmuch as salt is renowned for its ability to purify the mouth and whiten teeth…
It also provides a certain consistency to toothpaste, possibly in addition to its minerals, which cannot be harmful to teeth: this is what is called accumulating advantages.
A marine touch in baths…
Minerals (again) and salty taste remind us of sea swims… and bring a few of its benefits into our baths. Salt baths are indeed recognized to favour blood circulation and muscle relaxation. They also apparently activate cell renewal, toxin elimination, and just like all baths, they obviously contribute to our well-being. Of course this does not really help save water, therefore it is not the best thing to do from an ecological point of view, but they are so good sometimes!
… and for our feet too!
Salt baths are also well-known to relieve painful extremities. And the cosmetics industry is not necessarily required here: a generous handful of grey cooking salt in a basin of warm water is enough for painful feet to feel great.
Nevertheless, ready-to-use formulations add refreshing actives (mint or menthol), and sometimes a few essential oils to potentiate the salutary action of salt, and this cannot be bad either.
So, shall we sum it up? Salt is good from head to toe! And contrary to its use in food, it can be consumed without any moderation.
© CosmeticOBS-L'Observatoire des Cosmétiques
© 2014- 2020 CosmeticOBS