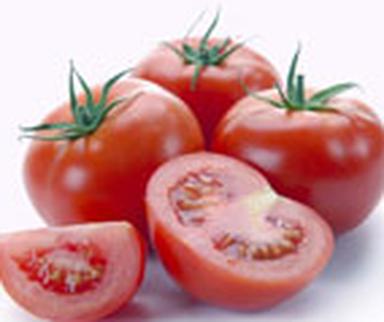 If tomato is a seasonal fruit to eat as much as one likes from our plates, indeed, it may also be consumed the same way, or almost, from cosmetics: take it for granted! Well, this does not mean that the ingredients it provides would be less efficient in winter (the food industry knows how to store them so that they keep their efficiency all over the year). Indeed, its effects on our skins are far more valuable during warm weather …
A fruit? A vegetable?
Tomato, Solanum lycopersicum, after its botanic name, is an herbaceous plant from the Solanaceae family (as potato, aubergine, capsicum … but also tobacco or petunia). Botanically speaking, it is a fruit, though considered a vegetable for most culinary uses.
Originating in South America, it has been called pomo d'oro (Golden apple) for years, but also tomato, depending on countries, as soon as before the end of the 17th century. Imported in Europe in the XVIth century, thanks to the great seamen, it flooded Spain (leading to the famous gazpacho ), Italy (it is the main part of the pomodoro), then France. Finally, it became ubiquitous in the USA, with the so well known ketchup!
Lycopene and other welcome ingredients
Obviously, its high content of lycopene, a powerful anti-oxidant, is the major interesting factor of tomato. We know all the advantages of an anti-oxidant for our skins: fighting free radicals, a factor of skin ageing. They are produced by our cells faced to daily stresses. An anti-oxidant is a wonderful anti-ageing active ingredient…especially when powerful.
However, lycopene is not the only ingredient of interest in tomato: it is rich in vitamins and minerals (potassium, magnesium, phosphorus), all being nutrients that our epidermis, often mishandled, does like.
Anti-ageing and protective

Thanks to its concentration in lycopene, cosmetic extracts from tomato may be advantageously used in skin-protection cares. Anti-pollution, anti-tiring, anti-ageing active ingredients are also welcome to fight the adverse effects of sunrays. Thus, tomato would be highly efficient to prepare our skin to tanning and to enhance its natural defenses against UVA and UVB.
That is why tomato ingredients are found in sunscreens creams and lotions, but also in products that prepare our skins to sun or that extend the tan.
Regenerating and purifying
As it is high in vitamins and minerals, tomato is also an excellent active "plus" for the cells' regeneration. An emollient (it soothes our skin and makes it supple),a humectant (it retains water on the skin surface to keep it moisturized), it mixes its different properties to give back epidermis its balance and health. This makes it very useful in our daily care creams, masks or serums …
Further, it comes with astringent (it tightens skin pores) and purifying properties, which is a precious plus for oily or combination skins.
As a last point, tomato is renowned to brighten dull complexion, which it would give radiance and brightness to.
Mediterranean and marketing
Add a complementary point: tomato is an iconic reminder of summer, sunny warm days, generously served salads on holiday time … as it is also above all a natural product, as if produced in one's own backyard…These symbols have been tentatively used by the marketing departments of several cosmetic brands. That is why "tomato-basil" shower-gels or "olive-tomato" programmes have been available, playing the card of the Mediterranean tones of this beautifully red fruit …
Is it due to the very peculiar fragrance (very close to an Italian restaurant's), or to the reluctance of consumers, who cannot yet imagine tomato elsewhere than in a plate? We must, frankly, say that openly "à la tomate" cosmetic products have met with little success …many are those that have been discreetly no longer marketed within a year after their placing on the market.
Nevertheless, tomato is still, for our pleasure, a quite widely used cosmetic active ingredient, even if in a more muted fashion.
Ripe in our cosmetics

Tomato is present in many of our face care products: Crème Diabolique Tomate , by Garancia , Crème visage Printemps été , by Clé des Champs, Rêve de Miel - Crème Visage Ultra-Réconfortante Nuit , by Nuxe, Supra Sérum Haute Exigence , by Clarins, Capsules de Soins Intensifs , by Annemarie Börlind …
Our body and men's care products are also targeted: Huile Prodigieuse, by Nuxe, Huile Divine , by Caudalie, Gel douche Groseille & Tomate cerise , by Le Petit Marseillais, Savon fruit tomate , by Le Comptoir des Savonniers, Cycle Pureté - Gommage & Masque , by 66°30 …
The green colour of its leaves brings as a touch of freshness in perfumes ( Feuille de tomate , by Parfum d'Orsay, Gommage corps , by Clé des Champs…).
Obviously, it is a major ingredient in the entire "Yes to tomatoes" programme, the Éclat Tomate Mythique and Fruit d'éclat à la tomate bio (also used in beauty salons), by Ella Baché, tomato-based products from Vegetable(s) Secrets …
Tomato in the lists of ingredients
• Solanum lycopersicum fruit (dried tomato) : emollient, humectant
• Solanum lycopersicum fruit extract (tomato extract) : anti-oxidant
• Solanum lycopersicum fruit juice (tomato juice) : active ingredient for skin care
• Solanum lycopersicum fruit lipids (tomato lipids) : active ingredient for skin care
• Solanum lycopersicum fruit water (tomato hydrolate) : masking agent
• Solanum lycopersicum fruit/leaf/stem extract (tomato fruit/leaf/stem extract) : astringent
• Solanum lycopersicum meristem cell (tomato meristem* cells) : anti-oxidant, skin care active ingredient
• Solanum lycopersicum seed oil (tomato seed oil) : emollient
* According to the Wikipedia definition, in embryophyta (green plants), meristem is a tissue consisting of undifferentiated cells (meristematic cells), found in zones of the plant where growth can take place, thanks to the mitotic phase (the division of the mother cell into two daughter cells).
© 2012- 2021 CosmeticOBS