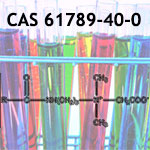 This datasheet contains exhaustive basic information: chemical identification, technical data, functions, origins, regulations, safety, trade names and suppliers, formulation tips… Find out everything about this cosmetic ingredient with a single click. Every week, a new raw material will be dissected and available on CosmeticOBS.
Reading time : ~ 4 minutes
Name : Cocamidopropyl Betaine
INCI Name

Cocamidopropyl betaine

English name

Cocamidopropyl Betaine

CAS No.

61789-40-0

CE No.

263-058-8 / 931-296-8
CosIng functions
Antistatic
Cleansing Agent
Foaming Agent
Hair Conditioning Agent
Surfactant
Viscosity Controlling Agent
Main functions
Cleansing Agent
Foaming Agent
Regulation
No restriction nor condition for use
Knowledge to date
Cocamydopropyle betaine (CAPB) is an amphoteric surfactant derived from coconut oil and dimethylaminopropylamine. It is widely used in many cleansing products for its almost non-irritant properties for the skin and eyes: it helps 'soften' formulas and lighten the abrasive effect of cleansing bases, usually in combination with anionic surfactants.
Tox profile
A recurring, viral rumour associates it with allergenic properties resulting in rather rare, but severe eczema and various dermatitis types mainly on the face, scalp, and neck. Today, it seems widely recognized that the allergy cases were actually triggered by amines, residues produced during the manufacturing phase (amidoamine, dimethylpropylamine…).
Formulator's corner
By Carole André
In which products should it be used?
• All types of cleansing bases: shower gels, shampoos, bubble baths, foaming cleansing gels…
• Cleansing milk
How to formulate it?
• It is ...