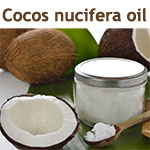 This datasheet contains exhaustive basic information: chemical identification, technical data, functions, origins, regulations, safety, trade names and suppliers, formulation tips… Find out everything about this cosmetic ingredient with a single click. Every week, a new raw material will be dissected and available on CosmeticOBS.
Reading time : ~ 4 minutes
Name : Coconut Oil
INCI Name

Cocos nucifera oil

English name

Coconut Oil

CAS No.

8001-31-8

CE No.

232-282-8
Origins
Geographical origins
Philippines
Oceania
India
Providers
CosIng functions
Hair Conditioning Agent
Masking
Perfuming
Skin Conditioning Agent
Non official functions
Emollient
Regulation
No restriction nor condition for use
Knowledge to date
Along with surfactants, coconut oil is one of the most widely used coconut derivatives in cosmetics. Nourishing and protective, it helps the skin fight against dehydration. Repairing and smoothing, it regenerates malnourished skins and dry and damaged hair, and it soothes red blotches on reactive epidermises and baby bottoms.
Coconut oil is obtained by cold pressing fresh coconut pulp rich in saturated fatty acids, and particularly in lauric acid (almost 50%), and it has a very characteristic perfume (the well-known coconut smell).
It should be said that as regards copra oil, it is derived from the dry pulp and is endowed with properties similar to coconut oil. It is designated with the same INCI name (Cocos nucifera oil), but it is not perfumed. Both have the same affinity with the skin and hair fibres, the same high saponification index, ...