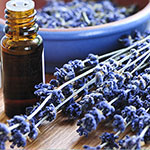 This datasheet contains exhaustive basic information: chemical identification, technical data, functions, origins, regulations, safety, trade names and suppliers, formulation tips… Find out everything about this cosmetic ingredient with a single click. Every week, a new raw material will be dissected and available on CosmeticOBS.
Reading time : ~ 4 minutes
Name : Lavender Oil
INCI Name

Lavandula angustifolia oil

English name

Lavender Oil

CAS No.

8000-28-0 / 90063-37-9

CE No.

- / 289-995-2
Origins
Providers
Safety data
Eventual allergens
Linalool
Geraniol
Limonene
Coumarin
CosIng functions
Tonic
Masking
Fragrance Ingredient
Non official functions
Purifying (skin with blemishes)
Sanitizer (feet)
Repairing (promotes skin repair)
Repellent (lice)
Regulation
No restriction nor condition for use
Knowledge to date
Lavender essential oil, commonly known as 'real' lavender, looks like a pale yellow-green liquid concentrated in volatile aromatic compounds derived from the steam distillation of the plant's blossoming heads.
Its name comes from Latin verb 'lavare', which means 'washing', as a reference to its original uses: disinfection and purification. As an integral part of the pharmacopoeia, lavender has also become a choice ingredient for the perfumery industry.
It can be very easily and spontaneously combined, for example with aspic to create hybrid lavender, which is often mistaken for real lavender.
The most wonderful qualities of real lavender essential oils are obtained from the plants that grow at high altitude (above 700m, ideally 1,300m).
Tox profile
Just like all essential oils, that of real lavender contains allergens, including anticoagulant coumarin, which can make it become ...