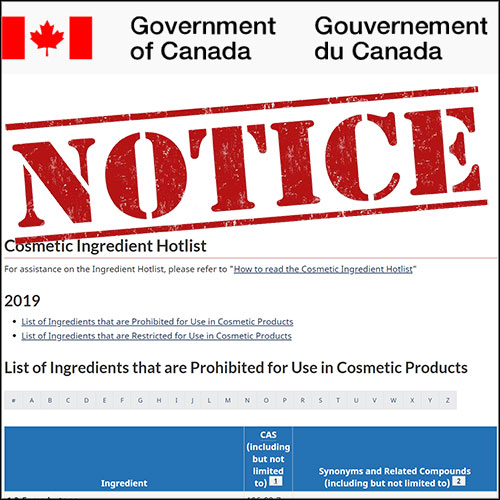 Health Canada has just released a "Notice to Stakeholders" relating to several proposed amendments to the Cosmetic Ingredient Hotlist. The purpose of this notice is to alert those selling cosmetics to possible updates and to invite them to provide safety information on the substances involved, which include several ingredients currently not regulated in Europe.
Reading time : ~ 8 minutes
After the latest changes to the Cosmetic Ingredient Hotlist, this "administrative tool that Health Canada uses to communicate to manufacturers and others that certain substances, when present in a cosmetic, may contravene the general prohibition found in section 16 of the Food and Drugs Act or a provision of the Cosmetic Regulations," in December 2019, Health Canada is again considering new updates, which include :
• Additions to the Hotlist
• Changes to the conditions for existing entries
• Changes to include additional substance identifiers or make minor corrections
At this time, stakeholders are invited to provide safety information or other considerations about the proposed substances that may further inform the Health Department's decisions. This notice precedes the public consultation, which is expected to be launched in about three months' time.
Proposed restrictions additions to the Hotlist
Ethylhexyl Ethylhexanoate
Health Canada's explanation
Ethylhexyl Ethylhexanoate is being considered for addition to the list of restricted substances due to health concerns, as assessed by the Government of Canada's Chemicals Management Plan (CMP) under the Canadian Environmental Protection Act, 1999 (CEPA 1999).
Regulation in Europe
Ethylhexyl Ethylhexanoate (CAS: 7425-14-1; EC: 231-057-1) is listed in the CosIng as an emollient. It is not restricted by Cosmetics Regulation 1223/2009, but is classified as Repr. 2 (Toxic ...